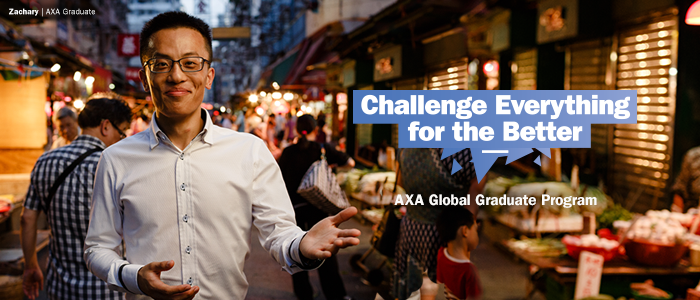 About AXA Asia Regional Office
AXA Asia, part of the AXA Group, is a market leading insurance player offering a differentiated composite proposition in Life and General Insurance with operational presence in Hong Kong, Singapore, Indonesia, China, India, Malaysia, the Philippines, and Thailand, We are seeking talented graduates to join our Global Graduate program, where you will get the opportunity to develop as a future leader.
About AXA China Region (Hong Kong)
AXA Hong Kong, a member of the AXA Group, prides itself of serving over 1 million customers in Hong Kong and Macau. Besides being one of the largest health protection providers in Hong Kong, it is also the number 1 General Insurance provider and a market leader in motor insurance. AXA Hong Kong is committed to helping its customers achieve stability and prosperity through providing a comprehensive range of life, health, property and casualty protection, as well as wealth management and retirement solutions.
We believe it is our inherent responsibility to support the communities we operate in, hence creating a sustainable business via constant and considerable contribution in the dimensions of health, environment and the community. Based on 2013 Office of the Commissioner of Insurance market share statistics