Deutsche Bank Graduate Jobs & Internships
Exceeding your own expectations. 
Building a career. Feels like Deutsche Bank.
At Deutsche Bank, you're empowered to discover your role in transforming the world of banking. You'll be supported to find your place in a team of people from a wide range of backgrounds and with a variety of skills. Each individual here has a part to play in reimagining banking services for corporations, governments and private individuals, worldwide. You will have real opportunitie…
View more
Your future. Our future.
Joining Deutsche Bank today means joining an organisation on the brink of exciting change.
We're looking for people who are exhilarated by that potential. Innovative, strategic thinkers who not only want to be part of our future but want to lead it. At Deutsche Bank, we're giving you the platform to do that. You'll be immersed from day one; making decisions, collaborating with senior managers and driving true transformation that delivers positive impact for everyone we work with.
Whatever field you're interested in, if you have the drive and talent, you'll find a rewarding, challenging role that matches your interests and nurtures your strengths. Our graduate and internship programmes are tailored to give you the training, opportunities and support you need – so you can build the career you want and make a real difference.
To find out more, please visit db.com/careers/graduates
Discover what banks do and where you could fit in, please read The Unofficial Guide to Banking.
The Deutsche Bank Graduate Programme
Our programme is designed to equip you with the skills and knowledge you need to immediately add value and contribute to meeting the needs of our world-class clients. You'll join your global classmates across all business areas for orientation where you'll hear directly from executive board members regarding the future of the bank. Following this, best-in-class product trainers will give you an unrivalled introduction to our business and the industry. You'll build a broad knowledge base and hone your skills through immersive classroom and online modules that are built around you, preparing you for a thriving career where you can make a difference at Deutsche Bank.
Grow your potential. Make an impact. Discover a career to look forward to at db.com/careers/graduates
The Deutsche Bank Internship Programme
There's no better way to experience for yourself what a career at Deutsche Bank is like than through one of our internship programmes. Whether you join investment banking, technology, or another of our internships, our programmes offer responsibility from the outset, following comprehensive training. You'll work on projects that have a real impact for our clients and gain unique insights into our bank and your area of interest. You'll start to build the knowledge and the contacts you'll need to succeed – and you could gain a place on our Deutsche Bank Graduate Programme.
Grow your potential. Make an impact. Discover a career to look forward to at db.com/careers/graduates
The Deutsche Bank Technology Programme
At Deutsche Bank, we're designing and building the digital bank of the future and you could help shape that. With a strong position in Europe and a significant presence in Asia and the Americas, we're taking a technology-first view of our business. That's why we're looking for innovative thinkers and curious minds to transform the bank through advanced applications, challenging programming projects and cutting-edge tech like AI and blockchain.
Our global innovation labs, Digital Factory and investment in digitalisation are paving the way for what's next. Whether you're interested in technical positions or more business-facing roles, when you join us, you'll have the opportunity and flexibility to explore a variety of different areas. You'll work with expert teams on live projects, from rapidly prototyping an app to finding new ways to connect our people across the world. Collaborating closely with users, engineering teams and stakeholders, you could turn data into powerful, business-critical insights that serve our clients and the bank.
While you're engaged in building fintech's future, you'll have the tools and training to grow your skills and the opportunities to increase your network. So whether you're working out how to move EUR trillions around the globe, pioneering algorithms that predict price shifts or developing complex quantitative trading tools, you'll advance your career and our industry.
The future is yours to shape.
Discover a career to look forward to at db.com/careers/technology
Find out where you can make an impact
We make an impact all over the world. Find out where you can make yours.
We're a leading bank with international reach and are focused on creating a positive impact for our people, clients and communities. We're leading the way on transforming banking through technology, empowering every one of our people to drive change around them and prioritizing long-term success over short-term gains.
For you, that means a career where you are in control. It means a career that could take you anywhere, where you'll make a real difference around the world. It's your ideas, your talent and your ambition that will lead us into the future. We have a number of divisions that are hiring, including:
Corporate and Investment Banking: Corporate Finance; Global Markets; Global Transaction Banking
Deutsche Wealth Management
DWS (An integral part of Deutsche Bank and one of the world's leading asset managers)
Chief Regulatory Office
Technology
Visit db.com/careers/graduates to discover more.
What type of candidate do we look for?
We recruit people from a broad range of backgrounds and universities for a wide variety of roles.
We don't need you to have a financial or mathematical background to work here – although obviously there are some roles where you'll need to have strong numerical skills.
We're looking for entrepreneurial people who thrive best in a diverse and inclusive culture where innovation and agile thinking are abound.
Ultimately, we hire more for aptitude and attitude than for what you know already.
We're looking for people who can apply themselves and perform at an exceptional level across a variety of disciplines, rather than looking for specific experience.
Curious about Deutsche Bank? Play this interactive game to explore different situations, gain insight in our culture and get a sneak peek into our environment.
The Career Experience of Deutsche Bank
During this interactive game, you'll have the chance to navigate through different scenarios giving you a preview of what life at Deutsche Bank could be like. Explore different situations, gain insights in our culture and get a sneak peek into our environment. The journey is yours to control. Ready to play? Click here to start.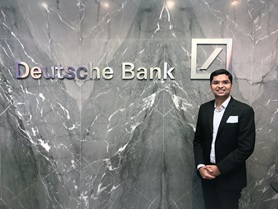 Shubhendra Agrawal
Business Analyst, Foreign Exchange Technology
Why did you join Deutsche Bank?
I studied Computer Engineering at the National University of Singapore. I've always been passionate about working at the crossroads of two disciplines, two industries, and the technology division of a global financial firm is just that. I was a DB tech intern in the Summer of 2014 and started on the grad programme in 2015. Since then I've been through several rotations in Global Transaction Banking (GTB), Corporate Tech, Information Security and Global Markets.
What's the culture like in the Technology Division?
I think what makes the culture so strong at Deutsche Bank is the real diversity of countries, cultures, and professional backgrounds. In technology we work across different time zones and interact with parallel teams all over the world.
What are the biggest intellectual challenges you've faced?
Every financial firm that operates in Asia has to deal with big differences in regulatory requirements between jurisdictions, and that's one of the key challenges we have to address in technology. Heavy-handed, one-size-fits-all solutions are not an option; we have to tailor global standards to suit local demands.
How have you changed during your time here?
I don't know that I've changed, but I've definitely come to realise my strengths and weaknesses. Having experienced several teams across the organisation, I've realised that I enjoy working with cutting-edge tech, and how lucky I am to be involved in some of the most exciting industry platforms.
What do you enjoy most about the graduate programme?
The programme has been a great way to form long-lasting connections and friendships. It's amazing to meet and start working with hundreds of new colleagues who are just as keen to make an impact as you are, to ask questions, and to learn about the bank's strategy from senior managers. I also got the chance to make several trips around the UK and explore London – a memorable experience.
Why should someone work in tech in a bank and not for a tech firm?
If you're interested in working in a cross-disciplinary field, a bank is an excellent choice. You develop products all the way from ideation to successful adoption, and at Deutsche Bank you work with innovation labs and technology centres around the globe. You'll get the chance to take our digital presence to the next level – to innovate not only in the way we service our clients, but in how we as colleagues go about our work.
Diversity at Deutsche Bank

Emile
Role: Analyst
Location: Singapore
Division: Global Transaction Banking
"After the training program, you dive straight into the business. Your year's rotational training is a time to experiment and try new things – I gained exposure to a wide variety of roles. To succeed here, you have to be very motivated and want to do things better. I've met so many amazing people from so many different places, and it broadens your mind to take in so many perspectives"
Emma
Role: Investment Advisory
Location: Hong Kong
Division: Wealth Management
"When I was offered the opportunity to join the graduate programme after graduation I jumped at the chance."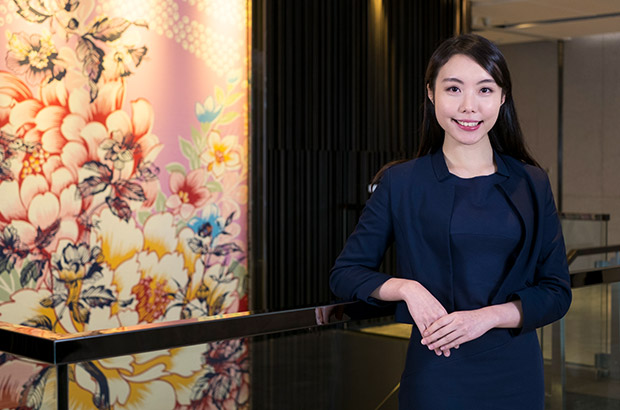 Samantha
Role: Analyst
Location: Manila, Philippines
Division: Group Finance
"I wanted to deal with people from different cultures and Deutsche Bank is a truly global bank. I've been working here for less than a year, yet I've already got involved in some very interesting projects. I work with agile-minded people and this helps me develop that kind of thinking. What you do here affects not just your country, but everywhere else in the world."
Tracy
Role: Institutional Cash Management
Location: Hong Kong
Division: Global Transaction Banking
"I noticed how collaborative people are here. They're knowledgeable, but they don't work in silos and they care about developing the next generation."