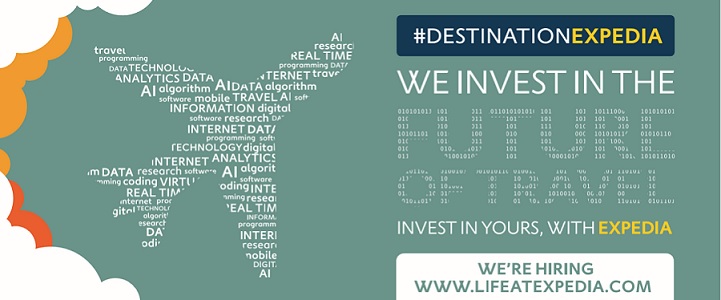 Expedia Group Graduate Programs and Jobs
Expedia Group is the world's travel platform, with the power to bring the world within reach for millions of people.
Our extensive brand portfolio includes some of the world's most trusted online travel brands, powered by the most knowledgeable, passionate and creative people in our business.
Our travellers, our teams and our partners are our priority because we recognize the importance of what we do.
Expedia Group currently has 0 opportunities.
Select the following options:
Company Overview
Expedia Group
---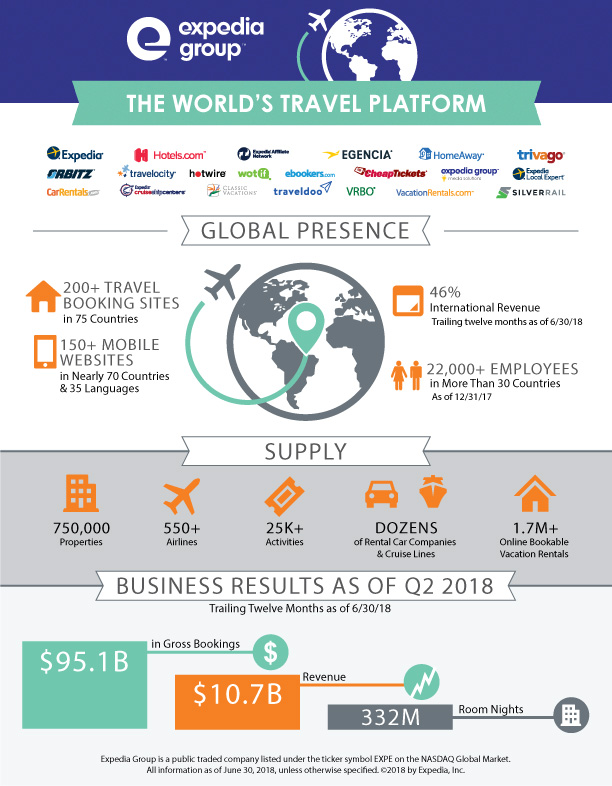 What We Believe In
Expedia Group
---
We are the World's Travel Platform
Our Purpose
Our purpose is to bring the world within reach.
Strategic Imperatives
We Will be Locally Relevant on a Global Basis
We Will be Customer Centric
We Will Attract and Engage the World of Travel Suppliers
We Will Power Other Industry Partners
We Will Continuously Improve Our Platform with Data and Tech
We Will be the Place where Exceptional People Who Share our Passion for Tech and Travel Want to do their Best Work
Expedia Group's Guiding Principles
Put Yourself in the Shoes of our Customers and Partners
One Team, Group First
Have a Bias to Action
Relentlessly Strive for Better
Think Big and Small
Be Data Driven and Business Judgment Led
Simplify
Be Open and Honest
Be Humble
Be Positive.  Assume Positive Intent
Expedia Internship Opportunities
Expedia Group
---
There will be three main components to the Internship Program at Expedia:
Training: various training sessions, inclusive of business skills training and Expedia-specific trainings
Project: the project will be assigned during the latter half of the internship. Interns will be asked to complete the assignment and make a presentation during the last few weeks of the program.
Understanding Daily Tasks: learn, understand, and experience first-handedly the daily tasks
Those that are successful in our internship program will be eligible for a full-time opportunity at Expedia Group!
Lodging Partner Services
Working with hotels to bring travellers to them is Expedia's bread and butter. Our global reach can help a hotel that's at half-capacity at noon be full and bustling by sundown. That power is driven by systems, which provide streamlined bookings and access to global consumers, so our partners feel the value of working with us. Lodging Partner Services covers anything that has to do with hotels. We're there to create customer-hotel relationships that couldn't have existed without our systems. Our technology acts as a matchmaker, giving clients that perfect weekend getaway and ensuring that dust never has time to settle in our partner hotels. Our technology results in continually improving platforms that hotels use to interact with the Expedia database to increase their inventory and content. It's exciting and it's important. These partnerships are what fuel us forward as we connect people and places around the globe.
Position in Lodging Partner Services:
Market Management – Market Associate Intern
eCommerce Platform:
At Expedia we are revolutionizing travel through the power of technology.  Every second of every day, we send two travelers on a trip.  We sell enough tickets to fill nearly six hundred 737 airplanes every day, and our mobile apps have been downloaded more than 10 million times across 180 countries.  We work in a fast-paced environment to keep up with the ever-changing travel landscape. The opportunities to inspire travel for the global customer are endless.
We want you to bring your techie skills to our agile environment as we move from revolutionizing the web to redefining the mobile experience. From the back-end supply and database functions, to new user-interfaces for our more than 140 branded travel sites, there is no shortage of technical innovation.
Position in Technology:
Expedia Worldwide Engineering – Associate Software Development Engineer Intern
HomeAway Internship Opportunities
Expedia Group
---
HomeAway is part of the Expedia Group family of brands. We are a world leader in the holiday rental industry with more than two million places to stay in 190 countries. The site makes it easy to find and book the perfect beach house, cottage, or apartment for any getaway. Our global platform spans across over 50 websites and 23 languages.
Positions in HomeAway:
Business Analyst Intern
Marketing Intern
Partner Success Intern
Product Intern
Technology Development Intern
Expedia Cares
Expedia Group
---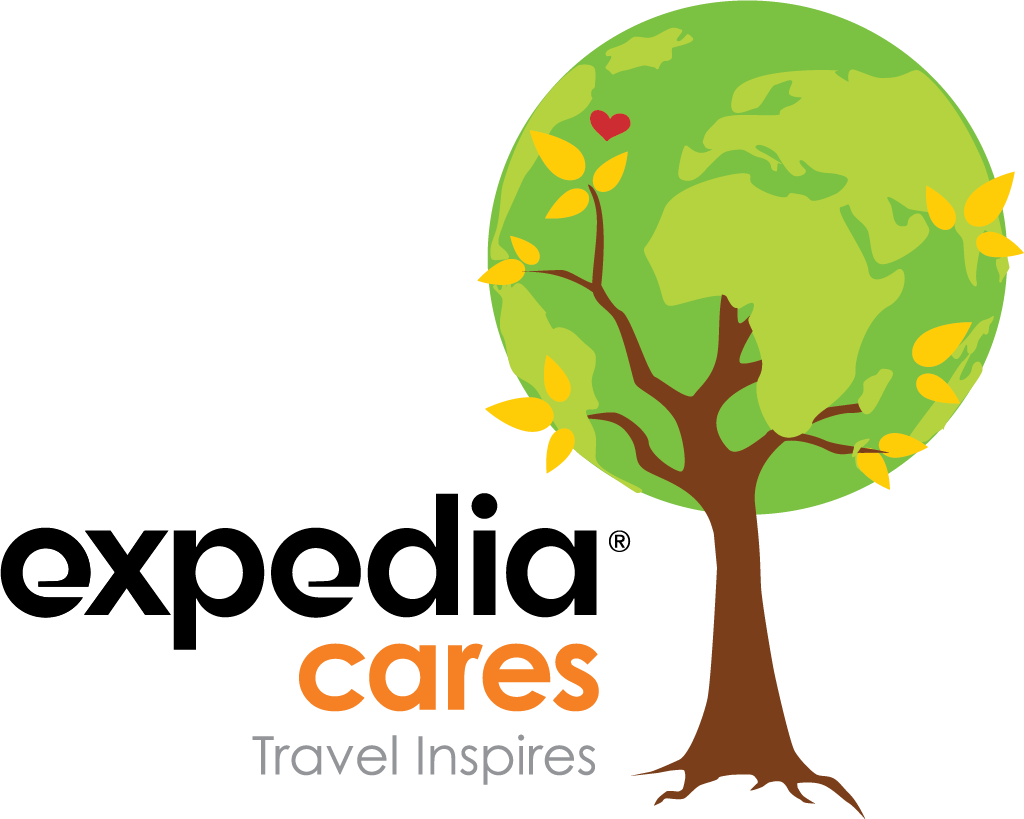 Travel is a force for good. It connects us culturally, emotionally and physically – it opens our eyes, our minds and our hearts.  And it changes how you see your place in the world.  Expedia Group's employees have the chance to see amazing things and explore new communities, but they are also encouraged to make a difference.  Through Expedia Cares, they can fight against inequality in all forms, help to shift circumstance and drive change in places that need it most.
The Pillars of Expedia Cares
Matching Gifts & Volunteer Hour Match
We're humbled by our team's passion for individual giving and volunteering.  That's why we honor their commitment by matching donations and the value of the time they volunteer – to reinforce their significant efforts and support the organizations they care about most.
Global & Local Volunteer Committees
Grassroots volunteer efforts contribute to the unique community cultivated at Expedia Group.  Our initiative, innovation, and compassion aren't just reserved for work, they extend into all aspects of our lives.  That's why many locations have employee-driven committees that source, plan and staff local volunteer opportunities, benefiting a variety of local causes.
Global Day of Caring & Global Month of Caring
This signature volunteering event is an extension of our team's passion for giving back in their own communities.  Hosted in more than 50 countries during our Month of Giving, this event provides all Expedians the opportunity to join together, giving their time and talents to make meaningful contributions where they work and live.
Global Ambassador Program
Often called "the coolest field trip ever," this program takes Expedians to a challenged destination, immersing them in the local culture to understand how we can help support tourism and sustainable living in the area.  The impact of these journeys is long-lasting, breaking down barriers and unveiling new possibilities for how we can impact the world together.
Why Join Us?
Expedia Group
---
Expedia Group recognizes our success is dependent on the success of our people.  We are the world's travel platform, made up of the most knowledgeable, passionate, and creative people in our business.  Our brands recognize the power of travel to break down barriers and make people's lives better – that responsibility inspires us to be the place where exceptional people want to do their best work, and to provide them the tools to do so.   
Whether you're applying to work in engineering or customer support, marketing or lodging supply, at Expedia Group we act as one team, working towards a common goal; to bring the world within reach.  We relentlessly strive for better, but not at the cost of the customer.  We act with humility and optimism, respecting ideas big and small.  We value diversity and voices of all volumes. We are a global organization but keep our feet on the ground, so we can act fast and stay simple.  Our teams also have the chance to give back on a local level and make a difference through our corporate social responsibility program, Expedia Cares.
If you have a hunger to make a difference with one of the most loved consumer brands in the world and to work in the dynamic travel industry, this is the job for you.
Our family of travel brands includes: Brand Expedia®, Hotels.com®, Expedia® Partner Solutions, Egencia®, trivago®, HomeAway®, Orbitz®, Travelocity®, Wotif®, lastminute.com.au®, ebookers®, CheapTickets®, Hotwire®, Classic Vacations®, Expedia® Media Solutions, CarRentals.com™, Expedia Local Expert®, Expedia® CruiseShipCenters®, SilverRail Technologies, Inc., ALICE and Traveldoo®.
Expedia is committed to creating an inclusive work environment with a diverse workforce. All applicants will receive consideration for employment without regard to race, religion, gender, sexual orientation, national origin, disability or age.
To learn more about what our colleagues have to say, you may visit https://blog.lifeatexpedia.com/