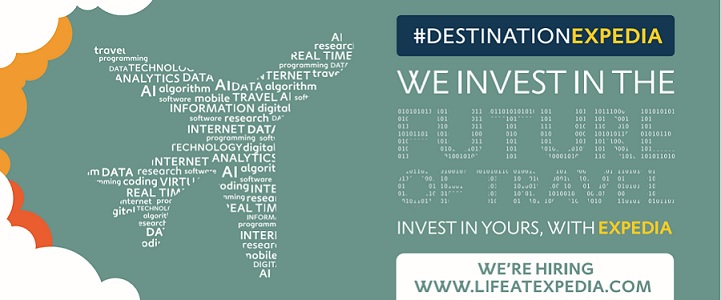 Expedia Internship Opportunities
Expedia Group
---
There will be three main components to the Internship Program at Expedia:
Training: various training sessions, inclusive of business skills training and Expedia-specific trainings
Project: the project will be assigned during the latter half of the internship. Interns will be asked to complete the assignment and make a presentation during the last few weeks of the program.
Understanding Daily Tasks: learn, understand, and experience first-handedly the daily tasks
Those that are successful in our internship program will be eligible for a full-time opportunity at Expedia Group!
Lodging Partner Services
Working with hotels to bring travellers to them is Expedia's bread and butter. Our global reach can help a hotel that's at half-capacity at noon be full and bustling by sundown. That power is driven by systems, which provide streamlined bookings and access to global consumers, so our partners feel the value of working with us. Lodging Partner Services covers anything that has to do with hotels. We're there to create customer-hotel relationships that couldn't have existed without our systems. Our technology acts as a matchmaker, giving clients that perfect weekend getaway and ensuring that dust never has time to settle in our partner hotels. Our technology results in continually improving platforms that hotels use to interact with the Expedia database to increase their inventory and content. It's exciting and it's important. These partnerships are what fuel us forward as we connect people and places around the globe.
Position in Lodging Partner Services:
Market Management – Market Associate Intern
eCommerce Platform:
At Expedia we are revolutionizing travel through the power of technology.  Every second of every day, we send two travelers on a trip.  We sell enough tickets to fill nearly six hundred 737 airplanes every day, and our mobile apps have been downloaded more than 10 million times across 180 countries.  We work in a fast-paced environment to keep up with the ever-changing travel landscape. The opportunities to inspire travel for the global customer are endless.
We want you to bring your techie skills to our agile environment as we move from revolutionizing the web to redefining the mobile experience. From the back-end supply and database functions, to new user-interfaces for our more than 140 branded travel sites, there is no shortage of technical innovation.
Position in Technology:
Expedia Worldwide Engineering – Associate Software Development Engineer Intern