Hatch Graduate Jobs & Internships
Whatever our clients envision, our engineers can design and build. With over six decades of business and technical experience in the mining, energy, and infrastructure sectors, we know your business and understand that your challenges are changing rapidly. We respond quickly with solutions that are smarter, more efficient and innovative. We draw upon our 9,000 staff with experience in over 150 countries to challenge the status quo and create positive change for our clients, our employees, and the communities we serve.
Hatch currently has 0 opportunities.
Select the following options:
Past Hatch Graduate Hiring Statistics
If you're interested in working at Hatch, understanding when they have opened up applications for their graduate programs, graduate jobs and internships is helpful knowledge to have so you know when you might need to apply. Use the below information to see when Hatch hires graduates, but more importantly what graduate degree's and other student attributes they target for their jobs.
---
Job types
Graduate Jobs (90%),

Internships (10%),
Disciplines
Design and User Experience (5%),

Engineering (10%),

Engineering Chemical Processing (14%),

Engineering Civil Structural (24%),

Engineering Electrical (19%),
Hatch supplies engineering, project and construction, business consulting and operational services to the mining, metallurgical, energy and infrastructure industries.
We embrace our clients' visions as our own. We have the knowledge and expertise to deliver the smartest, most innovative solutions for the real world. We have the courage to challenge our client when we believe there's a better way, but we always keep their long-term success our top priority. Together with our clients, we are transforming the world for the better.
Our first step towards sharing our story is to build a brand that will help us create stronger partnerships, powerfully connect with clients and transform businesses and communities for the future.
Help us ignite the future together, today.
At Hatch, we challenge the status quo and create positive change for our employees, the communities and clients we serve in the mining, infrastructure, and energy sectors. We're inclusive, collaborating no matter where in the world we are. You're part of a community at Hatch, one that fosters career growth and education, is philanthropic in nature, and where entrepreneurship is key to success.  
Hatch Graduate Programme
Hatch
---
The Hatch Graduate Programme is a global Hatch initiative aimed at engineering excellence. It has been developed to facilitate the management of professional career development over the initial years. Aligned with ECSA (Engineering Council South Africa), our Professional Development Programme provides a flexible framework in which to achieve Professional Registration (PrEng) status and consequently to meet both personal and professional goals. 
What does the Graduate Programme offer? 
Challenging career with countless opportunities in the infrastructure sector
The opportunity to receive excellent mentorship from industry experts 
An exciting work environment involved in a constantly evolving industry 
Flexible framework to achieve Professional Accreditation with ECSA (PrEng)
Continuous learning and development opportunities via the Hatch Corporate Learning Centre 
PDP (Professional Development Programme) support structure
Global exposure with a variety of work around the world
Networking events and activities
Community Involvement
Hatch
---
At Hatch, we strive for real partnerships with our clients and with the communities in which we work. We take every opportunity to assist and contribute to our local communities when and wherever we can, in areas like clean energy, student education, and philanthropic efforts.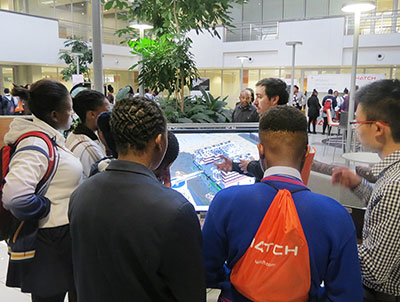 Hatch recently welcomed more than 80 high school students to our Durban and Johannesburg offices as part of CESA (Consulting Engineers of South Africa's) Job Shadow initiative.
South Africa is facing a major issue, one that CESA refers to as a 'mathematics meltdown'—where young students are falling behind in math-based courses and thus moving away from programmes of study that are heavily rooted in math. This could hinder the country's ability to fill the pipeline of future engineers.
To tackle this growing problem, 11 years ago CESA launched its Job Shadow initiative, a programme that allows young students to experience a day in the life of an engineer and encourages young learners who struggle with mathematics and science to persevere. Through job shadow experiences and motivational talks, the young students are offered the chance to imagine, live, work, and pretend to be engineers—opening up their minds to a world of possibilities and opportunities.
Hatch is proud to have participated in the day. It's one of the many initiatives that we, as a company, undertake in an effort to encourage students towards careers in engineering. We believe in encouraging bright minds to take up the challenge of creating positive change in our world.
Read more about how Hatch supports local communities here: https://www.hatch.com/en/About-Us/About-the-Company/Community-involvement
Ethics and Sustainability
Hatch
---
"We are committed to maintaining high standards of ethical behaviour in the conduct of our business. We are accountable to our clients, communities, and employees for conducting our business in a manner which is safe, respectful, legal, and sustainable."
John Bianchini | Chief Executive Officer, Hatch
Based on our founders' early principles, Hatch has built an unwavering and strong reputation for conducting business with integrity, earning the respect and trust of our clients, employees, and the communities in which we work.
We are committed to maintaining our well-deserved reputation and high standards of ethical behaviour in the conduct of our business.
Global compliance
We comply with all laws and respect the customs and business practices of the countries in which we work.
Responsibility and accountability
We honour our commitments, take responsibility for all matters over which we have control, and are accountable for the results and consequences.
Respect in the workplace
We maintain a supportive, professional, and positive workplace environment by appreciating the unique skills, experience, and talent of each individual, treating everyone with courtesy, fairness, and respect.
Relationships
We build relationships and teams based on trust, honesty, integrity, and respect. Our teams actively collaborate and openly share experience and knowledge globally.
Confidentiality and privacy
We understand and respect the sensitive and confidential nature of the information that we are provided, in our roles and by clients, and do not release this information without appropriate consent—unless required to do so by law.
We also respect and protect the privacy of all personal information of our employees and others who work with us.
Fairness, integrity and honesty in our dealings
We establish and maintain professional relationships with our clients, contractors, suppliers, vendors, joint venture partners, and others, based on mutual respect, integrity, and honesty by:
Prohibiting acts of corruption, bribery or improper influencing of decision-makers
Respecting that gift-giving and providing entertainment is an important cultural business practice in some of the countries in which we work while using careful judgement to ensure that we do not offer or accept such benefits when the situation could either reasonably be perceived to create an obligation or would be in breach of the recipient's policies
Avoiding any situation that creates or appears to create a conflict of interest and informing clients of all known or perceived conflicts of interest
Not disclosing or trading upon non-public, market-sensitive information
Competing fairly and ethically and offering services on the basis of our qualifications and experience
Observing applicable laws regarding political contributions, activities, and lobbying.