Community Involvement
Hatch
---
At Hatch, we strive for real partnerships with our clients and with the communities in which we work. We take every opportunity to assist and contribute to our local communities when and wherever we can, in areas like clean energy, student education, and philanthropic efforts.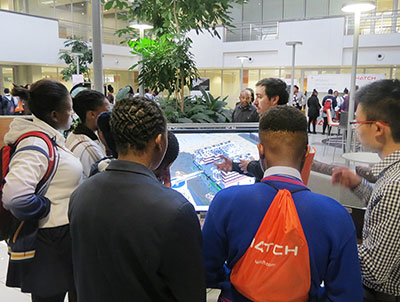 Hatch recently welcomed more than 80 high school students to our Durban and Johannesburg offices as part of CESA (Consulting Engineers of South Africa's) Job Shadow initiative.
South Africa is facing a major issue, one that CESA refers to as a 'mathematics meltdown'—where young students are falling behind in math-based courses and thus moving away from programmes of study that are heavily rooted in math. This could hinder the country's ability to fill the pipeline of future engineers.
To tackle this growing problem, 11 years ago CESA launched its Job Shadow initiative, a programme that allows young students to experience a day in the life of an engineer and encourages young learners who struggle with mathematics and science to persevere. Through job shadow experiences and motivational talks, the young students are offered the chance to imagine, live, work, and pretend to be engineers—opening up their minds to a world of possibilities and opportunities.
Hatch is proud to have participated in the day. It's one of the many initiatives that we, as a company, undertake in an effort to encourage students towards careers in engineering. We believe in encouraging bright minds to take up the challenge of creating positive change in our world.
Read more about how Hatch supports local communities here: https://www.hatch.com/en/About-Us/About-the-Company/Community-involvement
---