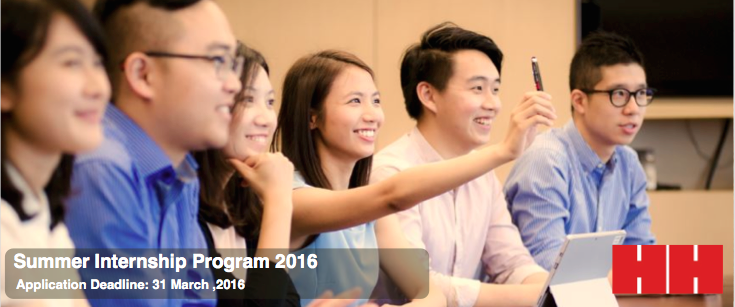 Hopewell Management Trainee Program 2016
Hopewell
---
Hopewell Management Trainee Program 2016
Hopewell Holdings Limited, a Hong Kong-based group listed on the Stock Exchange since 1972 (stock code: 54). The Group has continuously grown and become one of the leading business conglomerates in Hong Kong.Hopewell is actively engaged in property development and investment, highway infrastructure, power, hotel & hospitality and other businesses. While achieving substantial long term growth, the Group recognizes the vital importance of promoting sustainable development.
Program Overview
Hopewell Management Trainee Program is a tailor-made 24-month scheme bringing you a unique opportunity to unveil your potentials and develop intrapreneurship. In the program, Management trainee (MT) will be assigned to rotate at different business units and corporate functions to equip oneself on a fast track to managerial positions. As trainees, you will be provided with ample learning and exposure opportunities to facilitate your all- round personal development. As Hopewell MTs, you will be provided with:
Familiarization
Job Rotation
Training & Development
Buddy-Mentor-Coach Scheme
Upon completion of the Program and subject to individual interest and performance, you would be expected to move along this career ladder.
Training and Curriculum
Our Management Trainee Program is comprised of two full years of professional training. In the 1st year, our Management Trainees will have a good knowledge on the businesses and operating models of the Group from the familiarisation and site visits. There will be a series of active cross-departmental attachment training alongside on-the-job coaching and mentoring. Throughout the Program, we endeavour to foster change and innovation thoughts among our Trainees. With our comprehensive sponsorship, we expect a pioneer growth in their work and life.
In the 2nd year, our Management Trainees will continue to be sponsored in having extensive professional business training and personal development. Apart from global and mainland project exposure, our Trainees will also be given great autonomy in creating and leading their own sustainable projects for Hopewell within these two years.
Requirements
We are looking for young talents who are extremely curious, humble, and fit in the following requirements.  If you are up for a unique career experiences, apply for the Hopewell Management Trainee Program 2016.
Job requirements
Extremely curious
Is not afraid to fail and learn
A good listener & committed to care for others
Understands what is an intrapreneur
Aspire to be a multi-discipline decision maker
Able to deliver in multi-tasking and fast pace work environment
Be a university graduate in any discipline, and possess no more than 3 years of working experience
Application
Please visit our website at www.hopewellholdings.com/mtp/ and complete the online application form on or before 31 December 2015.