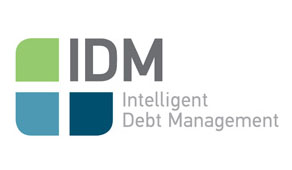 Founded in April 2004, The IDM Group "IDM" has established itself as South Africa's leading and largest debt management company.  IDM offers comprehensive advice and a host of highly effective solutions to South African consumers who are facing financial difficulties and struggling with debt.
IDM operates from a centralised office in Cape Town, South Africa, from which more than 200 employees service clients nationally.  Over 60% of IDM's clients are based in Gauteng.  IDM aims to help clients from all demographic and economic segments, with one division focussed on the upper middle income bracket and another division assisting clients with lower income.  To date, IDM has assisted more than 30,000 South Africans providing each with excellent customer service and solutions tailored to meet their individual needs.  IDM prides itself on being a key player in shaping the development of the industry and this is helped by both its extensive relationships with credit providers, insurers and a market share in excess of 15%.
IDM currently has 0 opportunities.
Select the following options:
Past IDM Graduate Hiring Statistics
If you're interested in working at IDM, understanding when they have opened up applications for their graduate programs, graduate jobs and internships is helpful knowledge to have so you know when you might need to apply. Use the below information to see when IDM hires graduates, but more importantly what graduate degree's and other student attributes they target for their jobs.
---
Check out some of IDM's past jobs they have posted on GradConnection over the last 12 months. Understanding the details about what a graduate employer is looking for well before applications have opened can sometimes be the edge you need to secure your first graduate program.
---
What we do matters. If you work at IDM you can make a real difference in this country and change lives. If you want meaning and purpose from your work, this is the place.
LOCATION
Cape Town (South Africa)