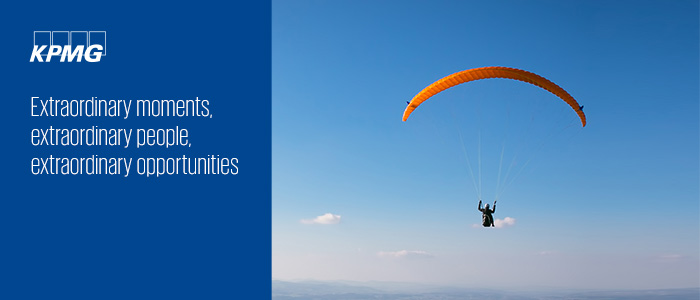 KPMG is a global network of member firms with over 162,000 people worldwide, including more than 9,000 people across 16 offices in China. We provide audit, tax and advisory services to many of the world's foremost companies.
KPMG currently has 0 opportunities.
Select the following options:
Past KPMG Graduate Hiring Statistics
If you're interested in working at KPMG, understanding when they have opened up applications for their graduate programs, graduate jobs and internships is helpful knowledge to have so you know when you might need to apply. Use the below information to see when KPMG hires graduates, but more importantly what graduate degree's and other student attributes they target for their jobs.
---
Disciplines
Accounting (67%),

Banking and Finance (67%),

Business and Commerce (67%),

Data Science and Analytics (33%),

Economics (33%),
Check out some of KPMG's past jobs they have posted on GradConnection over the last 12 months. Understanding the details about what a graduate employer is looking for well before applications have opened can sometimes be the edge you need to secure your first graduate program.
---
Accounting
and 1 other
Hires applicants with degrees in
Join us to leverage our global presence as one of the leading professional services firms, as well as our established reputation for enabling clients not only to adapt in a radically changing world, but to flourish in it.
Accounting
and 1 other
Hires applicants with degrees in
As a restructuring and insolvency specialist, you will be part of a team who are dedicated to their craft in bringing practical solutions to our clients and their stakeholders, with hands-on involvement in the implementation of restructuring and insolvency plans.
Banking and Finance
and 6 others
Hires applicants with degrees in
Data Science and Analytics
Work in teams on projects with financial services companies to support our clients to take their business forwards and address their business challenges in the areas of strategy, operations, technology, cloud and data.
Who are we?
KPMG is a global network of member firms with over 174,000 people worldwide, including more than 9,000 people across 16 offices in China. We provide audit, tax and advisory services to many of the world's foremost companies. Our client focus, our commitment to excellence, our global mindset and unparalleled delivery build long standing partnerships based on trust and integrity, which are at the core of our business and international reputation.
Inspire confidence and empower change. We do so by inspiring confidence in our clients, the market, government, regulators, investors in everything they do and using that confidence to empower positive change in the communities we operate in – leaving KPMG and the world a better place.
As one of the leading professional service providers in financial services, we are proud to have an influential voice in our profession, the business community, government and regulators as well as education and the wider community.  This means that working at KPMG is not just a career for you, it is a place where you can make a bigger impact and make meaningful changes in the community.
At KPMG, we embrace a high-performing culture and high standard of services. Our diverse workforce consists of high performing individuals who work well as one team to deliver the best results.  You'll enjoy world class training and tailored career development to help bring out the extraordinary in you. You will be motivated to learn new things every day and work with some of the best talent around the world. Our mobility programmes, also mean that you'll have a world of opportunities both in China and overseas to keep you one step ahead.
Our reputation as a leading professional service provider is reinforced by the wide range of awards KPMG has received over the years as the employer of choice, for our strong community involvement and our wealth of knowledge in the professional industries.
While work is important, we also recognise the importance of maintaining a healthy work-life balance. Our dedicated myLife team organises a wide range of activities, workshops and seminars to support both your professional and personal development and helping you strike a healthy work-life balance.
If you're passionate about making a difference, for yourself, for the clients and for the community, KPMG is the place to be.
KPMG Recruitment Information
KPMG
---
KPMG Graduate Programme
We are inviting graduates of 2016 or 2017 to join us. Candidates will need to demonstrate good communication skills, with a real interest in business and a desire to continue learning. We are looking to attract creative individuals that can make an impact, work collaboratively, and have a desire to work with a leading professional services firm. If you are motivated, ambitious, and have the tenacity and drive to make a difference in your career with KPMG, we would like to hear more about you.
KPMG China is investing heavily in recruitment with a strong commitment in China. For those of you who are planning to return to China and Hong Kong, we are recruiting local and overseas graduates of all disciplines across our core functions – Audit, Tax and Advisory.
Audit
Our Audit professionals are never short of exciting projects. Essentially, we give clients our view on whether their financial statements are a "true and fair" reflection of reality. You will be liaising with client management and developing an understanding of client business processes and accounting procedures. You will be auditing companies' financial performance and net assets for their initial public offerings on stock exchanges, rendering opinions for regulatory compliance purposes, or assisting clients in proposed merger and acquisition transactions.
You will have opportunities to work alongside other professionals such as investment bankers, lawyers and appraisers. You will be exposed to clients in diverse industries and different geographical locations. You will understand how they operate, formulate strategies and monitor performance.
Tax
As a Tax professional with KPMG, you will be joining a team that helps clients address critical business issues. From interpreting legislation to long-term planning and strategies, you will work collaboratively with clients and colleagues to think beyond the present, to see beyond borders, and to achieve long-lasting success. You will be challenged to adopt multi-disciplinary approaches and skills that reflect the needs of contemporary tax issues. Our people are "modern tax professionals" in every sense – and you will be too.
Advisory
Our Advisory practice works with diverse clients, from government organisations to large financial corporations. We offer a wide range of expert services covering Management Consulting, Risk Consulting and Transactions & Restructuring. When you join Advisory, you will be part of a multidisciplinary team delivering services that reflect the changing circumstances of our clients and the markets in which they operate. This will help you to develop the technical skills associated with your chosen service line, from offering advice on improving the performance of a business, undertaking a transaction and restructuring a company, to advising a client on how to handle risk and regulation for their organisation. Our Advisory teams have never been in more demand.
For more details on KPMG Graduate Programme, please visit KPMG Career.
KPMG Internship opportunities
It is very important for you to choose a career that allows you to fulfil your potential and explore opportunities for advancement and promotion. As a student, it is never too early to start considering the opportunities available to your future.
Where will the future take you?
Internships are a great way to get an understanding of the world of work as they enable you to gain valuable working experience and attain professional training during your academic study, put you one step ahead of the rest. This real industry knowledge also helps you to identify what you want, so that you can get a better idea of how to map your career path.
Application of 2016 Winter Internship is on now! Apply at KPMG Careers before 15th November!
KPMG Elite Programme 
KPMG's Elite Programme offers the chance to combine your university studies with valuable work experience at a well-known and reputable firm. It puts you in an advantageous career position, and it also lets you network with other Elites. After completing the programme and becoming a full-time KPMG staff member, top-performing Elites will receive a joining bonus.
Students will receive our professional audit training and work full-time with KPMG during our busy season. This unique programme allows you to:
Explore career opportunities within KPMG
Network with KPMG professionals and work with top-tier clients
Attain valuable client experience and professional training
Receive a monetary reward upon completing the entire KPMG Elite Programme, upon acceptance of a full-time position with us after your graduation
Elite Programme structure
1st year:
Receive professional training in the summer 
2nd year:
Receive refresher course in the winter
Work full-time during KPMG's busy season
Receive regular performance feedback
Meet with a KPMG Partner
Students demonstrating the required level of skills and performance will be offered to join KPMG as an Accountant after graduation, and are eligible to proceed to the third year of the Elite Programme
Receive professional training in the summer
3rd year:
Receive refresher course in the winter
Work full-time during KPMG's busy season
Receive regular performance feedback
Top performing Elites who successfully complete the entire programme will receive a bonus upon joining KPMG after graduation
For more details about Intern and Elite Programme of KPMG, please visit KPMG Career.
Application
Joining KPMG means that you will become an integral part of a high achieving and successful team, working together to deliver value to our clients, our people and our communities. You will focus on developing and delivering the technical skills associated with your chosen service line. However, you'll be working in a multi-disciplinary team that delivers a portfolio of services reflecting the changing circumstances of our clients and the markets in which they operate. You will also be given the chance to explore new opportunities, further develop your skills and gain achievements in your career.
Requirements
Students / Graduates of 2016 or 2017 from all degree disciplines
Good written and verbal communication skills
Passionate, committed and eager to success
Self-starters with good analytical and problem-solving skills
Flexible individuals who are able to work on multi-tasks and meet deadlines
Applicants for PRC offices should have Chinese citizenship
Applicants for Hong Kong or Macau offices should have the right of abode in Hong Kong / Macau or hold a valid work visa 
If you are interested in our 2016/17 KPMG Graduate Programme, please complete the online application form at KPMG Career. If you have applied for winter internship programme before, please use a new email address to register again. Personal data will be collected for recruitment purpose only. 
To find out more about KPMG and stay tuned with us, please find "KPMG China" on Facebook, LinkedIn, Weibo and WeChat.
Locations:
Beijing, Beijing Zhongguancun, Chengdu, Chongqing, Foshan, Fuzhou, Guangzhou, Hangzhou, Nanjing, Qingdao, Shanghai, Shenyang, Shenzhen, Tianjin, Xiamen, Hong Kong and Macau
How to apply
Visit KPMG Career and apply the interested programmes online.
KPMG, Bringing out the extraordinary in you!
Find out more on our social media platforms.