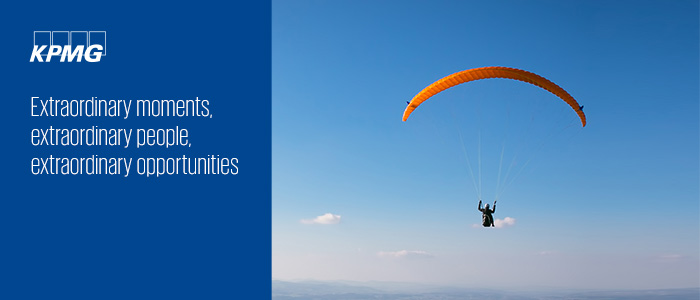 Application
Joining KPMG means that you will become an integral part of a high achieving and successful team, working together to deliver value to our clients, our people and our communities. You will focus on developing and delivering the technical skills associated with your chosen service line. However, you'll be working in a multi-disciplinary team that delivers a portfolio of services reflecting the changing circumstances of our clients and the markets in which they operate. You will also be given the chance to explore new opportunities, further develop your skills and gain achievements in your career.
Requirements
Students / Graduates of 2016 or 2017 from all degree disciplines
Good written and verbal communication skills
Passionate, committed and eager to success
Self-starters with good analytical and problem-solving skills
Flexible individuals who are able to work on multi-tasks and meet deadlines
Applicants for PRC offices should have Chinese citizenship
Applicants for Hong Kong or Macau offices should have the right of abode in Hong Kong / Macau or hold a valid work visa 
If you are interested in our 2016/17 KPMG Graduate Programme, please complete the online application form at KPMG Career. If you have applied for winter internship programme before, please use a new email address to register again. Personal data will be collected for recruitment purpose only. 
To find out more about KPMG and stay tuned with us, please find "KPMG China" on Facebook, LinkedIn, Weibo and WeChat.
Locations:
Beijing, Beijing Zhongguancun, Chengdu, Chongqing, Foshan, Fuzhou, Guangzhou, Hangzhou, Nanjing, Qingdao, Shanghai, Shenyang, Shenzhen, Tianjin, Xiamen, Hong Kong and Macau
How to apply
Visit KPMG Career and apply the interested programmes online.
KPMG, Bringing out the extraordinary in you!
Find out more on our social media platforms.