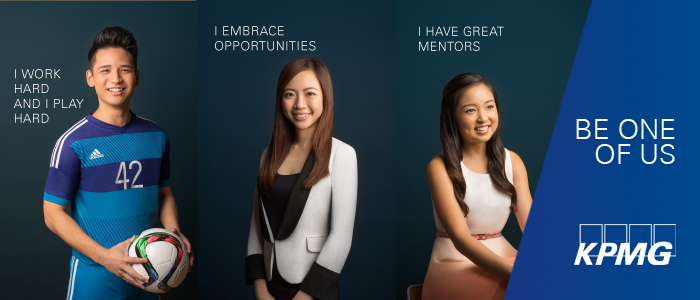 A degree in Finance
With a degree in Finance, you find yourself in a comfortable position upon graduation – you have many career options waiting for you. At KPMG, we offer a wide array of professional services to our clients and we are confident that you would definitely find something that interests you. From consulting to corporate finance to audit – each job offers a different sense of fulfilment to your career development. Coupled with the professional training that we offer, you will find yourself with a rewarding career at KPMG.
Main Businesses
1.  Audit
Our Audit function is structured along four lines of business, each addressing a key industry cluster in the marketplace. Each line of business is further divided into sectors to effectively organise technical and industry knowledge. This allows dedicated teams to address the unique industry demands of the marketplace.
Our industry-driven structure helps us to develop a deep understanding of our clients` businesses and the issues they face. This approach recognises that, in an increasingly competitive and complex market, the key differentiator is often the ability to demonstrate in-depth knowledge of our clients` businesses and the industry in which they operate.
As an Audit Associate, you will work in teams to provide our clients a range of independent audit services based on a strong knowledge of accounting principles.
The four lines of business in Audit are as follow:
Financial Services (FS)
Retail Banking | Investment Banking | Insurance | Investment Management and Funds
Energy & Technology (E&T)
Electronics | Software & Business Services | Chemicals & Pharmaceuticals | Energy & Natural Resources
Real Estate, Consumer & Tourism (REC&T)
Retail | Food & Beverage | Consumer Products | Industrial & Automotive | Tourism & Hospitality | Education | Real Estate | Life Sciences | Media & Entertainment
Diversified Industries & Infrastructure (DI&I)
Government | Healthcare | Transport & Logistics | Building & Construction | Shipping | Diversified Industries | Communications
Also under our Audit function, we have a Assurance & Business Advisory Services team which works closely with clients to help them to reach compliance with new or revised accounting standards, and to develop their finance departments. We also help clients to take a balanced approach to satisfying immediate and future requirements, while keeping development costs down.
2. Tax
KPMG Tax Professionals will assist corporate clients to identify and deliver tax planning ideas and approaches that offer value to their businesses. Tax compliance includes preparing and submitting income tax returns and computations, attending to queries and resolving complex tax issues with tax authorities, helping our clients manage their tax affairs, finding legitimate tax savings opportunities while facilitating compliance with tax laws, income tax planning and advisory services, applications to the relevant authority for tax and other related incentives and tax due diligence reviews.
The following are the five different divisions within Tax:
Tax Planning and Compliance
KPMG's corporate tax practice is focused on finding opportunities and leveraging them to create a competitive advantage for our clients in the form of tax savings. Equipped with a sound knowledge of various industries, we work closely with our clients to identify and deliver tax planning ideas and approaches that offer value to our clients' businesses.
Tax Advisory
Boundaries separating one jurisdiction from another are becoming less distinct. More than ever before, businesses have operations not only in their home country, but also in other countries around the world. KPMG's international corporate tax practice provides a wide range of leading-edge tax advisory services to many of the world's largest multinationals.
Indirect Tax
With this rising dependence on indirect taxes by governments worldwide, noncompliance costs related to these taxes are likely to continue increasing. KPMG's tax professionals have extensive experience in dealing with the GST issues faced by clients from various industries. We assist our clients in keeping abreast with new GST and Customs regulatory requirements; regarded by many businesses as a constant challenge.
Transfer Pricing
Transfer pricing refers to the terms at which goods, services, funds, and intellectual property rights are transferred across borders by related companies. Tax laws and regulations in most economies require related parties (e.g. companies) to conduct transactions at 'arm's-length' prices. These are market prices for goods and services that would have been charged if the parties were unrelated. We assist our clients in analysing their cross-border transactions and perform comparability studies, presenting our findings in detailed transfer pricing reports or in the form of written advice.
Global Mobility Services
As companies continue to expand into new global markets, there is increasing importance placed on highly mobile international workforces, and the abilities to effectively manage them. Whether the relocation of an executive is long-term, or short-term, multinational companies and their employees face a multitude of issues above and beyond the need to file personal income tax returns. Such issues include tax efficient remuneration planning, immigration and policy design among others. Before the employees start on their international assignment, we work with both the company and employees to devise the most efficient remuneration package to maximise their tax savings. Apart from assisting to file their annual income tax returns, we conduct meetings to let the employees have a better understanding of Singapore tax and their obligations.
3. Advisory
KPMG's Advisory practice helps businesses identify, assess and manage business risks. It focuses on fundamental business issues - understanding business drivers and external forces, managing risks, controlling costs - issues that all organizations must address to flourish and enhance shareholder value. In addition, the Advisory practice offers a range of advisory services to help meet the challenge of enhancing shareholder value in a complex, dynamic business environment.
Whether you aim to buy or sell a business, appraise business opportunities, raise capital, investigate fraud or maximize returns from non-performing and distressed assets, our professionals can devise and help implement practical and commercial strategies to help you achieve your goals.
In order for KPMG to be more responsive to our client needs, we have streamlined our various advisory services into three main service groups. They are as follow:
Risk Consulting
Financial Services Risk & Compliance Services (FSRC)
FSRC professionals perform reviews of risk and control frameworks of banks and financial institutions against applicable laws and regulations and industry best practices, and where gaps are identified, provide recommendations for enhancements. Our consultants examine policies and procedures against applicable laws and regulatory best practices. They provide consultancy services to financial institutions in their application to MAS to start up operations in Singapore. The unit provides support services to FS audit teams in areas of regulatory compliance and in-house trainings on regulatory topics.
Internal Audit Risk & Compliance Services (IARCS)
Significant change in governance requirements and how companies operate have driven the need for new approaches to internal audit which focus on providing value to the organisation. Beyond complementing an external auditor's work, our professionals identify and evaluate risks, and are trained to think like business managers.
Financial Risk Management
Financial Risk Management assists financial institutions and corporate clients to identify, measure and monitor financial and business risks to ensure a balance between risks and returns. Our team works with our clients to analyse the consistency of their risk management framework by offering a critical assessment of the implementation of the defined risk strategy in all dimension of business operations within the regulatory environment that it operates in. We also help clients to design and implement a robust risk management strategy and infrastructure, thus optimising the use of risk capital, methods and systems.
Management Consulting
IT Assurance (ITA)
IT Assurance & Security professionals use computer aided tools to identify global and local trends on threats and solutions for IT security. They perform audits on systems, processes and assess the system security with the objectives of reducing operating costs, improving speed and quality of service and increasing alignment between IT and the organisation.
IT Technology (ITT)
IT Technology professionals assist organizations in leveraging technology across platforms and environments to address specific objectives and help business goals. Some of their key services include IT strategy, ERP advisory and implementation services, business intelligence, enterprise content management, IT security, risk and compliance and IT project management.
Information Protection & Business Resilience (IPBR)
Information Protection & Business Resiliency (IPBR) Advisory professionals assist clients to address their concerns around confidentiality, integrity, availability and privacy of their IT infrastructure and data. The Information Protection practice provides advisory services to assess and deliver organisational security capabilities from a high-level view of the information security management processes through to technology-focused assessments (e.g. penetration testing), compliance and process reviews (e.g. PCI-DSS) and implementation of information security solutions.
Business Transformation (BT)
Business Transformation assist businesses in enhancing their strategic and operational performance. Our dedicated team of professionals assist both clients locally and regionally in the areas of strategic / organizational reviews, business process analysis and improvement, outsourcing / shared services, financial and business performance management and using information technology as an enabler to enhance business performance.
Deal Advisory
Corporate Finance
KPMG Corporate Finance assists businesses in the effective management and successful completion of transactions involving acquisition, disposal, merger, restructuring, initial public offering or other sourcing of finance. Whether the company is entering new geographical markets, diversifying into different business lines, returning to core activities or searching for fresh business opportunities - the company will require a new financial focus. This is where our CF group comes in. Services provided include IPO's, business & share valuations, mergers & acquisitions, financial due diligence, joint venture advisory & business reviews.
Restructuring Services
Our main aim in the corporate restructuring department is to avert the insolvency of companies. We therefore help our clients by offering advice on the re-organisation of their companies, monitor their corporate performances, give advice to lenders and creditors and carry out viability studies for them.
Transaction Services
KPMG is well positioned to handle deals for our clients in the mergers and acquisition arena. We make it a point to understand our clients' long- and short-term goals will enable us to best structure the deal, taking accounting, tax, and reporting issues into consideration. We help clients implement their strategies to make the acquisition work and to maximise shareholder value. Our Transaction Services deal in pre-deal evaluation, due diligence, contract assistance, business integration, structuring, analysing the acquirer's current position and the commercial objectives & investigate favourable accounting and tax options.
Forensic Services
The modus operandi of white collar crimes are becoming increasingly complex with the continuous and rapid developments in technology and globalisation. Organisations are increasingly vulnerable to these crimes and have encountered them in one guise or other. The damage can be irreparable, it could sink an organisation or ruin its corporate goodwill. KPMG Forensic offers a comprehensive range of services for the investigation and prevention of white collar crimes and unethical conduct such as fraud investigation, fraud risk management, corporate intelligence, forensic IT, litigation support, expert witness and agreement vetting.
Thinking about doing the Singapore QP?
KPMG is the first Accredited Training Organisation (ATO) recognised by the Singapore Accountancy Commission (SAC). At KPMG, we believe in each individual's professional development and we support our candidates through both the Foundation Programme and the Professional Programme.
To date, we have the largest number of candidates taking the Singapore QP and we also have the highest number of distinctions attained.
As part of our commitment to support the Singapore QP and to help you move along in your desired career path, we provide:
Full sponsorship of costs incurred for the Singapore QP (including course fees, examination fees, textbooks)
Paid study leave up to 10 working days per sitting
Paid examination leave on the date of examination(s)
Self-study materials provided by our Learning & Development department
Training provided – both internal and external classes with mock examinations conducted
At KPMG, your development is our commitment.