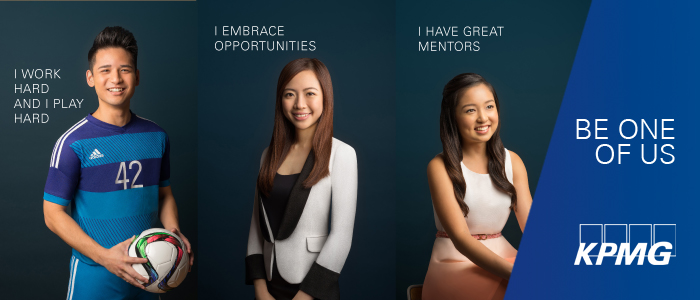 Join a Great Place to Work!
A Local Company with a Global Presence
KPMG in Singapore provides audit, tax and advisory services. Established in 1941, we have grown to become one of the largest professional service firms in Singapore today. In Singapore, we employ a total of 2,600 people and we belong to a global network of KPMG – 162,000 professionals working together in 155 countries.
Our clients include business corporations, governments and public sector agencies and not-for-profit organisations. They look to us for a consistent standard of service based on high order professional capabilities, industry insight and local knowledge.

Our People
We have an open-communication culture as we believe that a two-way conversation is crucial in aligning your personal goals with our service excellence at work. We believe that everybody has something unique to contribute and we truly care about what each individual has to say.
In Singapore, we have a diverse talent pool of over 44 nationalities and this contributes to us having a dynamic working environment at KPMG. We practise fair employment and we create an inclusive work environment for our people.
We provide an abundance of opportunities – be it at the personal level or at work. From international secondments ranging from three to twenty-four months, to singing for our KPMG ENVY band, to playing your favourite sports – we open doors. At KPMG, you are bound to find like-minded individuals who will share common interests with you.
We understand that everyone has their own strengths and interests and hence, we take the pursuit of excellence very seriously in KPMG – both at work and at play.
Our Values
At KPMG, we have a set of values that define who we are and how we do things. This set of values create a sense of shared identity within KPMG:
We lead by example
We work together
We respect the individual
We seek the facts and provide insight
We are open and honest in our communications
We are committed to our communities
Above all, we act with integrity
The Choice
KPMG recognises that every individual has something to offer. Show us what you can offer and in return, we will provide you an experience like no other. With time, you will see why we are The Choice.