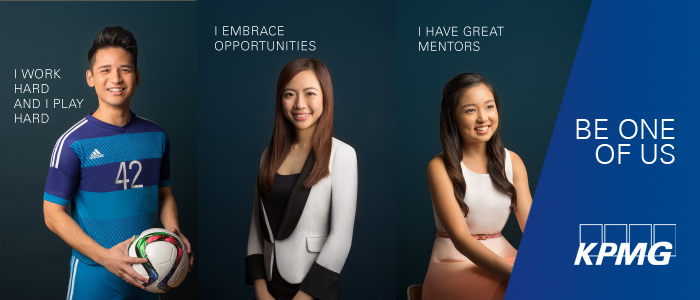 Their Experiences
Celestine Tan - Top Left
Senior Associate
Tax – Transfer Pricing
Celestine Tan is a 2nd year Senior Associate who works in the Tax – Transfer Pricing department at KPMG. Both at work and outside of work, Celestine is known to be a bubbly individual who often brings laughter and joy to people around her! Celestine enjoys the young and people-oriented culture here as the firm allows her to continue pursuing her interests and hobbies even out of school.
KPMG believes in empowering our people with the freedom to pursue their interests and we organise activities depending on what our people are interested in. Celestine has always loved sports and outdoor activities – From Scuba Diving to Ultimate Frisbee to trying out new sports at our annual Sports Day, she has participated in all of them! During her time here at KPMG, she has also forged many friendships not only at work, but also through participating in activities organized by the firm. Celestine says, "Everyone at KPMG is quite young. We are all in the same phase of life, making it easy for us to relate to each other and the different situations that we are going through."
Furthermore, Celestine has participated in activities that are initiated and subsidised by the firm (e.g. Standard Chartered Marathon, Pilates/Zumba classes, and dive trips, to name a few) and to this, she adds, "On top of organising events, KPMG also subsidises certain events, courses and workshops that cater to the many different individuals within the firm. I really appreciate all these little things that the firm does and it shows that the firm really cares about its people."
What happens if you do not enjoy exercising or partying? You can always go for trips to give back to the community! As part of the Regional Outreach Programme organised by KPMG, Celestine has travelled to Dalat, Vietnam with her team to teach English to the village kids. "The best part of this experience is that you get to spend time with your friends at work by doing something meaningful together!" says Celestine.
---
Samuel Seow
Associate
Audit – Financial Services
Samuel Seow is an 2nd year Audit Associate who works in the Financial Services department at KPMG. Prior to his full-time employment, he did three internships at KPMG – twice in KPMG Singapore (Audit and Corporate Finance), once in KPMG Germany (Audit). He briefly shares with us his experience in Germany:
"During my internship at KPMG in Germany, I was part of an engagement team auditing one of the largest banks in the world. The work was challenging, and the hours can be quite long during the peak period, but the knowledge and skills that I gained during these few months are invaluable! In the course of my work, I managed to experience how a global financial institution works.
I must say that my previous internship at KPMG in Singapore and the knowledge acquired at Nanyang Business School has definitely equipped me with the necessary skills to perform well under pressure."
Samuel graduated from Nanyang Technological University (NTU) with a double degree in Accountancy and Business – achieving first-class honours in both degrees! He was also voted as the Valedictorian of his graduating cohort (Class of 2015) and was awarded the Lee Kuan Yew Gold Medal for topping the cohorts for his respective programmes of study.
---
Andrew Chang - Front Left
Associate
Corporate Finance – Mergers & Acquisitions
Andrew Chang is a 2nd year associate who works in the Corporate Finance – Mergers & Acquisitions department at KPMG. Back in school, Andrew has been an active and sporty individual – represented his hall for various sports and led his juniors in freshman orientation camps. Here, he shares about his fulfilling experience at KPMG:
"I love sports and have participated in many since I was in school. I also love trying out new things, be it acting in a drama production or helping out with a community project. Thankfully, starting work did not mean an end to these fun times.
I am able to participate in a diverse range of activities and events, and have represented the firm in sports competitions (e.g. soccer, futsal). It can get quite intense when I'm working on deals but I also get to hang out with my friends at our really cool Clubhouse. I couldn't ask for more."