Nestlé Graduate Jobs & Internships
Nestlé is the world's largest food and beverage company. We have more than 2000 brands ranging from global icons to local favourites, and we are present in 191 countries around the world.
Past Nestlé Graduate Hiring Statistics
If you're interested in working at Nestlé, understanding when they have opened up applications for their graduate programs, graduate jobs and internships is helpful knowledge to have so you know when you might need to apply. Use the below information to see when Nestlé hires graduates, but more importantly what graduate degree's and other student attributes they target for their jobs.
---
Job types
Internships (71%),

Graduate Jobs (29%),
Disciplines
Accounting (21%),

Actuary (4%),

Administration (4%),

Agriculture (8%),

Architecture (4%),
Sector: Fast Moving Consumer Good (FMCG)
Description of company
Nestlé is the largest food and beverage company in the world, marketing its products in 150 countries globally. In South Africa, Nestlé has five factories nationwide, as well as two distribution centres.
The South African region's product offering include coffee, beverages, food, confectionary, infant nutrition, dairy and cereals. Nestlé manufactures brands which have become household names providing nutritious food and beverages to 1 billion consumers worldwide, every day.
Nestlé prides itself on its purpose of enhancing quality of life of consumers throughout their lives. The company takes its responsibility to ensure the highest quality of food and product safety, and in so doing, has built a large stable of sustainable, brands with trust being the cornerstone to the brand.
Number of Employees: 3000

What do we offer our Graduates?
The Nestlé Future Talent Graduate Development Programme welcomes graduates from all over South Africa. The programme runs over 24 months and is a rotational development programme designed to provide an introduction to the everyday working world of Nestlé together with hands-on work experience. It also provides graduates with a strong foundation for further success and development.
Throughout the programme, graduates are given a mentor, graduate coordinator and HR Business Partner, who all help with guidance and further consolidation of the discovery that there is 'More To Life at Nestlé'.
Performance is assessed on a continual basis, which ensures graduates grow and develop both functionally and through business skills.
A few of the company perks
Staff shop
Study leave
Study Assistance, Bursaries and Study Loan
Gym
Market related salaries
Annual salary reviews
Benefits similar to those of permanent employees 
Relocation Costs
Restaurant
On-Site Crèche
Dedicated breastfeeding Rooms
Safe and Covered Parking
Wellness programme 
Factoids
Local brands include NESCAFE, MILO, NESQUIK, MAGGI and KIT KAT, amongst others
Nestlé was established in 1866 by Henri Nestle, in response to the high infant mortality rate in Switzerland at the time.
Nestlé is a company driven by principles and not just profit
Building and maintaining brand equity lies at the heart of the company 
Employees are provided with a challenging career path and the skills to meet those challenges
The Nestlé Graduate Development Programme is an initiative that we invest in as it is a feeder into our business talent pipeline for various functional streams. Each year Nestlé South Africa welcomes graduates from around the country to our programme. The Nestlé Graduate Development Programme is part of the Nestlé needs YOUth Global Youth Initiative, which is designed to prepare you to achieve true fulfilment by combining the intellectual, the emotional, the personal and the social. And you can enjoy the challenge of new experiences and opportunities while making a lasting impact. Excelling in this environment means sharing our sense of responsibility for the lives we influence and improve.
You will take ownership for your future, remaining open to new perspectives and sharing our commitment to exceptional performance and to quality in everything we do. Your passion and pride will continue to make Nestlé the global leader in nutrition, health and wellness, enhancing lives all over the world.
Graduates are taken through a 24-month rotational development programme which is designed to introduce them to the working world of Nestlé, as well as to provide them with a strong foundation for further development and success. Throughout the programme, we offer you the support of a mentor, graduate co-ordinator and human resources (HR) business partner to guide you on your Nestlé journey. Your performance will be continuously assessed to enable you to grow and develop.
Nestlé promises to offer you a career lit with experiences and knowledge to truly make you a proud Nestlé employee.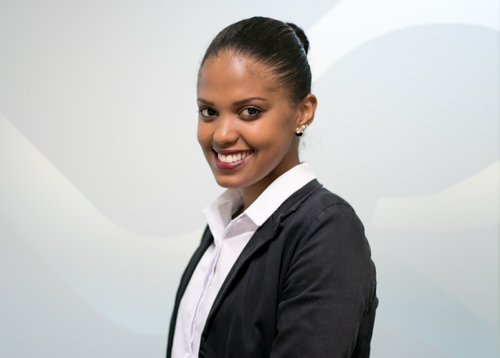 Name: Naledi Makanya
Qualification: BCom Supply Chain Management
University: University of Pretoria
Year of Graduation: 2016
Job Title: Supply Chain Graduate
"Being in the graduate programme is a great way to kick-off your career, if your aim to grow yourself within the company. Nestle is passionate about its graduates, and goes beyond expectations to create a wonderful learning experience."
What are your main responsibilities?
Practically learning the core functions of The Supply Chain department.
Identifying areas of improvements and initiating projects to close identified gaps. 
Providing assistance to all the Business Units within the organization. 
Running reports to ensure KPI's are managed efficiently.
What has been the highlight of your time at Nestlé?
Having exposure to the factories. It opens your eyes to how much more goes into getting products from the suppliers up until it reaches the consumers. Farm to fork.
The amount of exposure I have received in the little time I have been here, is incredible and the learning culture of Nestle is encouraging as a new addition to the family.
Why did you choose to work at Nestlé?
It's no secret that Nestle is one of the biggest FMCG companies in the world. What excited me the most about working for Nestle is the numerous opportunities for growth that I would be exposed to. There are 5 factories, 2 distribution centres just in South Africa. As a supply chain student, this was music to my ears.
What advice can you offer to final year students looking for their first job?
Be Patient. Be patient while looking for a job. Be patient when you get into your first job. No matter how well you did in varsity, you constantly need to show your worth to your new team. Don't be afraid to do the little tasks, because that is how in time you will earn the trust for bigger tasks. Don't rush the experience, but rather enjoy the new journey.
Name: Ayabulela Mjiwu
Qualification: BTech 
University: Walter Sisulu University 
Year of Graduation: 2017
Job Title: Technical Assistant
"Nestlé has shown me a lot. The management team has provided a platform for me to prove myself and to me that is what we need as graduates, a company that believes that you can add value."
What are your main responsibilities?
I deal with maintenance:
Co-ordination maintenance manning
Co-ordinating contractor on site 
Line improvements 
Identify and close high-risk areas on the line
Report on daily activities on the daily review meetings
Complete action from daily review meetings
Complete project for line performance improvements
What has been the highlight of your time at Nestlé?
Adding value to the company on a day to day bases 
Meeting the top management and present a project to them and receiving constructive feedback from them
Working with my team in my department and seeing the production result improvement from our input.
Why did you choose to work at Nestlé?
I wanted to work for the best in the FMCG industry and once I started working here, I then realised how much Nestlé cares about their customers and the effort they put in their product to meet the high standard that we know and love.
What advice can you offer to final year students looking for their first job?
If you want to grow in your field, be given an opportunity to stand on your own and add value, also to work in a team environment with one common goal, then  Nestlé is the right company for you to start your career.
Nestlé Global Youth Initiative
As Nestlé, we want to give you the opportunity to discover your own future based on transparency and strong values, always reminding you that the key differentiation factor is to have good work - life balance. Our values as a company are our drivers to success, we believe in our actual and future employees. At Nestlé, you won't be alone in your professional road, we want to give you the opportunity to reach your ideals with an entire team accompanying you.
We have four pillars to support our commitment to you:
Nestlé South Africa Performance Culture
A high-performance culture supported by differentiated rewards and development is key to the delivery of individual and business objectives.
This is driven by the alignment of clear and challenging responsibilities and priorities and ensuring that employees are aware of how their work impacts Nestlé. Your performance is the most important factor in determining your opportunities within Nestlé. You can take on new and bigger responsibilities by demonstrating through our performance evaluation process that you have performed strongly and consistently over a number of years.
The Nestlé world is a world of opportunity, where you can enhance the quality of life, for yourself, for your career and for the world.
We realise at Nestlé that our future lies not just in meeting demands through traditional business channels, but also in providing new nutritional and body enhancement products strengthened by thorough research and development.
Ensuring equal opportunity, fair employment practices and the creation of a work force that reflects the diversity of our consumers is fundamental to our structure and hiring standards and practices.