New World Group Graduate Programs & Internships
New World Development Company Limited ("The Group"; Stock Code: 17.HK) is a leading conglomerate based in Hong Kong. The Group was founded in 1970 and publicly listed in Hong Kong in 1972. It is a constituent stock of the Hang Seng Index with a total asset value of HK$369.2 billion as at 30 June 2014. For more than four decades, the Group has expanded from a single focus on the property business to four core areas, namely property, infrastructure and service, department store and…
View more New World Group has no active opportunities at the moment.
See who's currently hiring with our Job Search!
Search for jobs
New World Group Internship Programme 2017
New World Group Internship Programme 2017
Founded in 1970, New World Development Company Limited ("The Group", Hong Kong stock code: 00017) was publicly listed in Hong Kong in 1972 and is a constituent stock of the Hong Kong Hang Seng Index. A premium brand infused with a unique personality defined by The Artisanal Movement, New World Group's core business areas include property development, infrastructure and services, retail, and hotels and serviced apartments. As at 31 December 2016, the total asset value of the Group amounted to HK$420.4 billion. The Group has an effective interest of approximately 61% in NWS Holdings Limited (Hong Kong stock code: 00659), approximately 72% in New World Department Store China Limited (Hong Kong stock code: 00825). New World China Land Limited is wholly owned by the Group.
To fulfill its mission of fostering youth development for society, we are now looking for energetic, innovative, passionate and pro-active undergraduate students who are interested in gaining in-depth knowledge and understanding of our businesses through joining our Group Internship Programme and to be our New World Talent in future.
Programme Overview
During the eight-week internship, interns will be provided with plenty of learning opportunities within our Group companies to gain hands-on experience, other than on-the- job training, interns are offered an opportunity to be a "project manager" to manage a project with teammates and collaborate with different departments. Hence, interns can gain working and leadership experience in one go.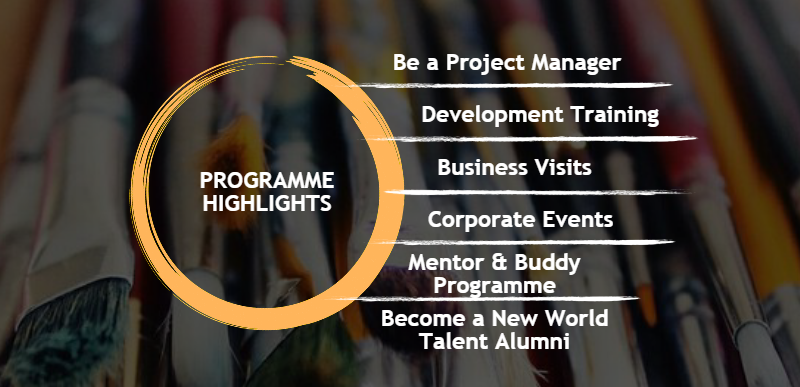 Interns with outstanding performance will be given preference in their future applications for Management Trainees or other vacancies in New World Group.
Artisans We Are Looking For
Undergraduate students (including those from Mainland China or overseas) possessing the following qualities are welcome to apply:
Ready to go ONE STEP FORWARD
Ready to SHINE
Ready to be our New World TALENT Newness, World-vision, Trust-worthy, Advancement, Leadership, Extra- curricular, Nimble, and Teamwork
Boundless Curiosity
Proficient in both spoken and written English and Chinese (Cantonese and Putonghua)
Prepared to develop a long-term career in New World Group after graduation
The Exceptional Challenge 2017
The Exceptional Challenge 2017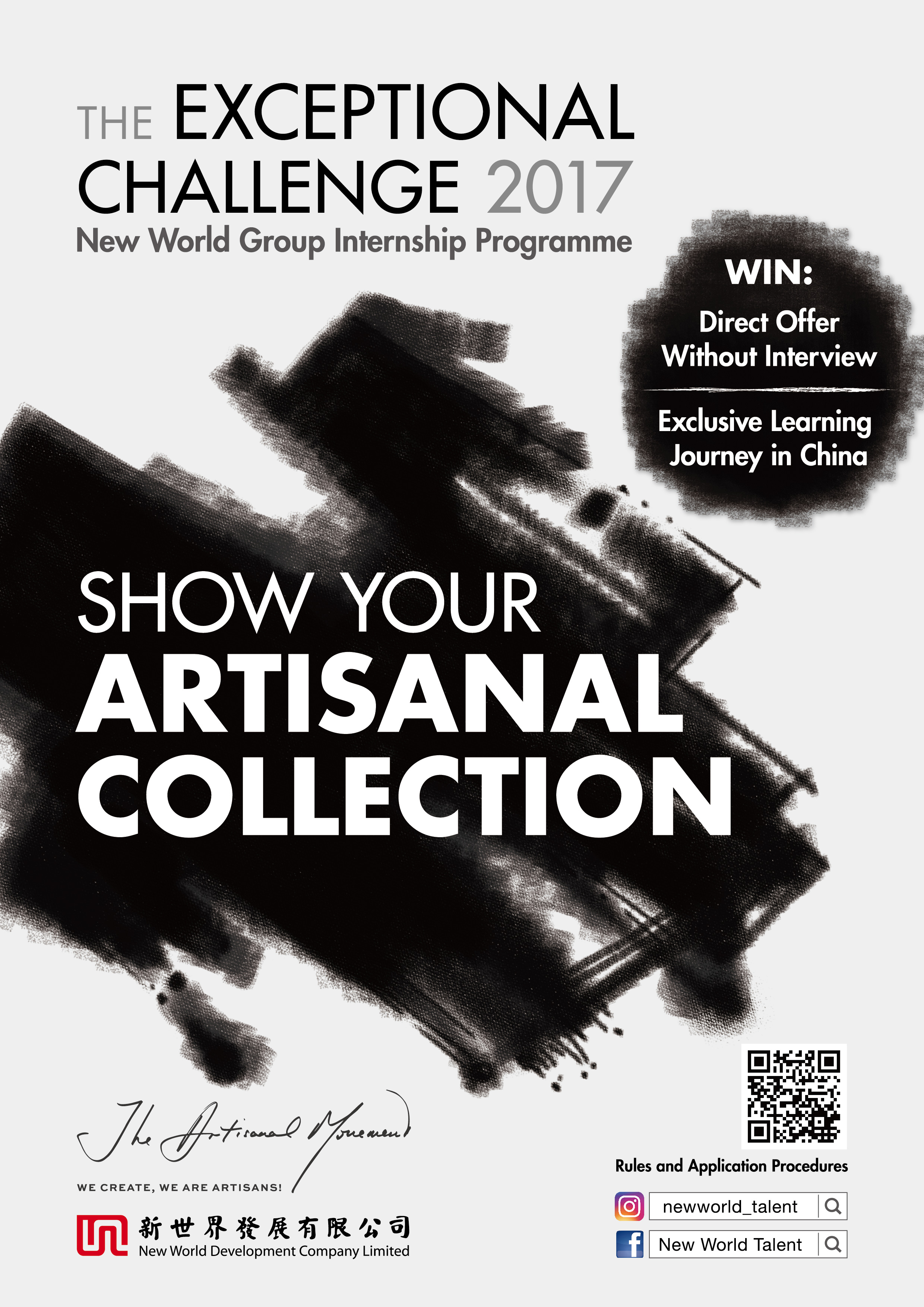 Topic
Show Your Artisanal Collection
Rules
Participants have to enroll in the competition on individual basis. The competition is divided into two categories, one for Audio / Video submission and one for Image / Text submission:

Audio / Video category
Image / Text category
Participants can enroll in two categories at the same time. Submission of different formats of works/presentations such as art pieces, drawings, poetries, photos, articles are highly encouraged.
Eligibility
Participants shall be current undergraduate students from Hong Kong, Mainland China and Overseas Universities.
Application Procedures
"Like" our Facebook Page "New World Talent" and "Follow" our Instagram Page "newworld_talent"
Submit your final production/ works by uploading it to our "newworld_talent" Instagram Page. All submission should be added with hashtags:#NewWorldIntern#TheExceptionalChallenge2017 #ShowYourArtisanalCollection @newworld_talent
Send a private message to "New World Talent" on Facebook with your personal information including your full name, name of university, major of study, year of study, name of Instagram account, email and contact number for verification purpose.
Assessment
The top 50 participants in each category (Audio / Video category and Image / Text category) will be shortlisted. These 100 participants (50 from Audio / Video category and 50 from Image / Text category) can proceed to the Artisans Hunt directly.
One winner of each category will be selected among them by our judging panel. The two winners will be granted the internship offers directly. An exclusive learning journey in China will be offered.
Regulations
Simultaneous enrollment in both the Mainstream Online Application and The Exceptional Challenge 2017 is welcomed.
The duration of Video/Audio category submissions should not exceed a total of one minute. For Image & Text category, the number of photograph submissions is limited to five, and Text submission is limited to 300 characters per article.
Top 50 candidates in each category who have not been offered with the internship opportunity through this path will be invited to join the next round of assessment called Artisans Hunt.
Late submissions will not be considered.
The submission of the participant will not be considered if he/ she did not fulfil the pre-requisite to "Like" "New World Talent" Facebook Page and "Follow" "newworld_talent" Instagram Page.
The works should not include any element of obscenity, indecency, assault or violence. The Organizer reserves the right to commence legal proceedings or take such other appropriate actions of whatsoever nature in respect of such submissions.
The submissions should not contain discriminatory content or promote discrimination on race, color, religion, gender, age, disability, or marital status. The Organizer reserves the right to commence legal proceedings or take such other appropriate actions of whatsoever nature in respect of such submissions without further notice.
Participant must not infringe the privacy and rights of any other party. If the submissions contain personal data of a third party (such as the image of a specified third party in the form of photograph, picture or video), the participant shall obtain the consent of such third party for the use of his/her personal data (including submitting such works to the Organizer pursuant to these regulations) in accordance with the requirements of the Personal Data (Privacy) Ordinance
The Organizer reserves the right to handle or remove any submitted works that involve controversial or sensitive content. The participant shall be solely liable for any liabilities or legal consequence arising out of or incidental to his/her submissions.
The Organizer reserves the right to use, amend, reproduce, exhibit, publish and distribute any submitted works for publicity and other non-profit and non-business purposes. The Organizer will not make any payment to the relevant participant or other parties in respect of such use.
The participant must be the sole owner of the intellectual property in his/her submissions. The submissions must be the participant's original work, and shall not contain any infringing materials.
The Panel reserves the right to amend the regulations any time at its sole discretion without prior notice. Prior to the enrollment, participants are expected to read the regulations carefully. By submitting your work you accept these regulations and agree to be bound by them.
In case of any disputes, the decision of the Organizer shall be final and conclusive.
Should there be any discrepancies between the Chinese and English versions of competition rules, the English version prevails.
Application Channels
To apply for our internship programme, two channels are provided below. Candidates can apply through both application channels simultaneously or either of them.
Mainstream Online Application
Candidates can apply through the mainstream channel via our website including online application, screening, assessment centre ("Artisans Hunt") and interviews.
The Exceptional Challenge 2017
The Exceptional Challenge 2017 is an additional application channel provided this year. Candidates need to submit a creative work on New World Talent Instagram page "newworld_talent". Selection criteria will be based on 1) Creativity, 2) Originality and final decision from judgment panel.
If you believe that you can rise to the challenge and are confident to be our future New World Talent, please complete the online application here on or before 27 April 2017 and submit your artisanal work on or before the same date if you are joining The Exceptional Challenge 2017.

Please note that application via other channels will not be considered.
Should you have any enquiries, you may contact us at [email protected]
Selection Process

Mainstream Online Application

The Exceptional Challenge 2017

Online Application/Works Submission

31 March – 27 April 2017

Application / Submission Deadline

27 April 2017

Assessment & Interview

May – June 2017

N/A

Notification of Successful Applicants

June 2017

June 2017

Programme Commencement

July 2017

Like and follow us on our New World Talent Facebook page!