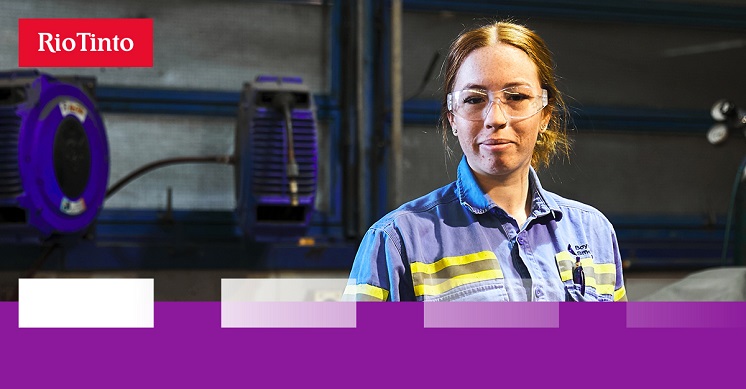 2022 Intern Program – Singapore
What if from day one you didn't just watch things happen, you made things happen?
What if you didn't just make an impression, you created a legacy?
What if you didn't just start a job, you transformed an industry?
About the role
All progress begins with pioneers. At Rio Tinto, it begins with you.
We're looking for exceptional Interns to join our 2022 Intern Program – Singapore, who want to learn and make an impact. Ambitious personalities with the gravitas to inspire colleagues and the curiosity and analytical mind to challenge the status quo.
From day one, our Interns help us transform the way we do things, making a better tomorrow for all of us. We love fresh ideas and new thinking, and our Intern Program gives you the tools to innovate and invent – to pioneer progress for you and us.
About the Program
The Rio Tinto Intern Program allows students, like you, to experience day to day life at Rio Tinto. It's an opportunity for you to feel what it is like to be part of the team, working directly alongside our people and explore roles best suited to your skills and aspirations. Our aim is for Interns to:
Build exposure to real-life projects and apply technical skills.
Build strong relationship through networking opportunities with industry professionals.
Learn from world-class online learning materials and other resources.
The 12-week program offers learning and development activities that enable Interns to transition from study to career. The best part: it gives you the opportunity to secure a Graduate position at the end of the program.
Rio Tinto will be conducting two Virtual Information sessions which will provide prospective Interns and Graduates with information including (but not limited to):
An overview of Rio Tinto- who we are and what we do
An overview of the Singapore Commercial team
A day in the life of a Rio Tinto Commercial Graduate- hear from current Graduates and participate in a Q&A
Event Details are listed below- to attend you must register, please click the link below:
Singapore Graduate & Intern Information Session 1

Wednesday 9 February @ 12:00 PM SGT
Singapore Graduate & Intern Information Session 2

Tuesday 15 February @ 12:00 PM SGT
What you'll bring to the Intern Program
Currently studying a Bachelor degree or equivalent in one of the following disciplines:

Maritime Studies/Operations
Trading
Computer Science/Data Science/Data Analytics
Science/Safety
Marketing/Commerce/Communications
Business/Economics/Finance/Accounting
Engineering – Process/Chemical/Metallurgy
Programming/Mathematics/Statistics

A commitment to the safety of yourself and your team
Excellent verbal and written communication skills
Interests in international business, current affairs, marine, maritime, and shipping, data science/analytics and supply chain would be a benefit for all Intern roles in the above listed disciplines
The ability to work independently and within a team with strong interpersonal and collaborative skills
Excellent analytical capability, attention to detail and ability to manage multiple priorities
Proficient in Microsoft Office products (PowerBI preferred but not essential)
Coding experience desirable
Eligibility:
Currently studying a Bachelor degree or equivalent and in penultimate year or second/third year.
About Rio Tinto
Every idea, every innovation, every little thing the world calls 'progress' begins with a first step, and someone willing to take it: explorers, inventors, entrepreneurs. Pioneers.
For nearly 150 years, Rio Tinto has been a company of pioneers –generations of people spanning the globe, all with the grit and vision to produce materials essential to human progress.
Our iron ore has shaped skylines from Shanghai to Sydney. Our aluminium –the world's first to be certified "responsible" – helps planes fly and makes cars lighter. Our copper helps wind turbines power cities, and our boron helps feed the world and explore the universe. Our diamonds help us celebrate the best parts of life.
Where you'll be working
Rio Tinto Commercial puts the company's value over volume approach into practice, with the goal of maximizing the value of our physical flows to improve both our business and that of our customers.
Headquartered in Singapore, and integrated with Rio Tinto's assets, hubs, and offices globally, our Commercial group works hand-in-hand with our product groups to ensure both the amount and types of products we produce meet our customer's needs, and manage the trade-off between volumes, quality, cost, and capital expenditure.
Our Commercial teams are entrepreneurial, fast-paced and a highly specialised part of our business. Our team has a deliberately open and strategic culture where we reward the creation of value through innovation and risk taking. You get to work alongside inspiring and creative colleagues and learn and grow every single day.
Every Voice Matters
At Rio Tinto, we particularly welcome and encourage applications from Indigenous Peoples, women, the LGBTQIA+ community, mature workers, people with disabilities and people from different cultural backgrounds.
We are committed to an inclusive environment where people feel comfortable to be themselves. We want our people to feel that all voices are heard, all cultures respected and that a variety of perspectives are not only welcome – they are essential to our success. We treat each other fairly and with dignity regardless of race, gender, nationality, ethnic origin, religion, age, sexual orientation, or anything else that makes us different.
Next steps…
Join us and pioneer a career that will not only build your future, but drive progress for us all, apply today.
Please note, in order to be considered for this role you must complete all pre-screening questions.
If you would like to know more about careers at Rio Tinto, join us on LinkedIn or join our Talent Network http://bit.ly/RioTalentNetwork.
Applications close Friday 25 February 2022
27-01-2022
Job type:Internships
Disciplines:

Accounting, Banking and Finance, Business and

...

Locations:
Closing Date:25th Feb 2022, 12:59 pm
Search
Enter an employer or university you want to find in our search bar.