SEEK Graduate Programs and Jobs
Applications for our 2022 Strategy and Operations are open now!
SEEK currently has 0 opportunities.
Select the following options:
SEEK in a snapshot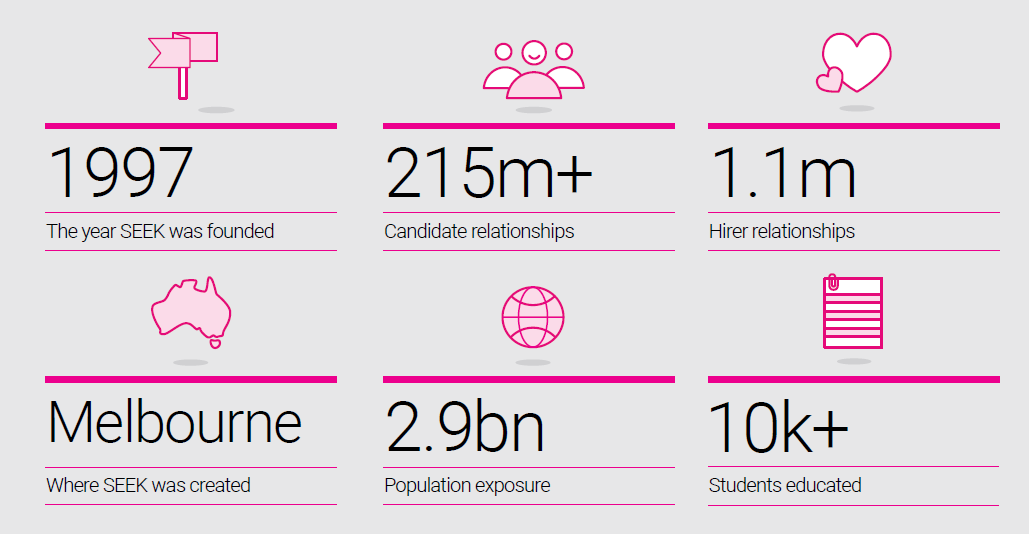 The SEEK Group
SEEK's portfolio of diverse businesses make a positive impact on a truly global scale. Our unified purpose helps people live more fulfilling and productive working lives and helps organisations succeed. We create world-class technology solutions to connect more people to relevant employment, education, small business and volunteer opportunities. We have a culture of high-performance in our workplaces and celebrate the diversity of our employees who contribute to the success of our organisation.
Find out more about us by visiting https://www.seek.com.au/about/.
'This is SEEK'
At SEEK our biggest asset is our people, and we are proud of our community of valued, talented and diverse individuals who really know their stuff. Our culture statement, This is SEEK, is all about what makes SEEK unique and a little bit different. This is SEEK clearly outlines what we believe in and the attributes of our best people, which include:
Passion about SEEK and our customers
Great judgement and decision-making ability
Knowing their stuff – Professional and Leadership skills
Delivering great outcomes for SEEK.
Find out more about This is SEEK and our how our culture comes to life by visiting
https://www.seek.com.au/work-for-seek/life-at-seek/.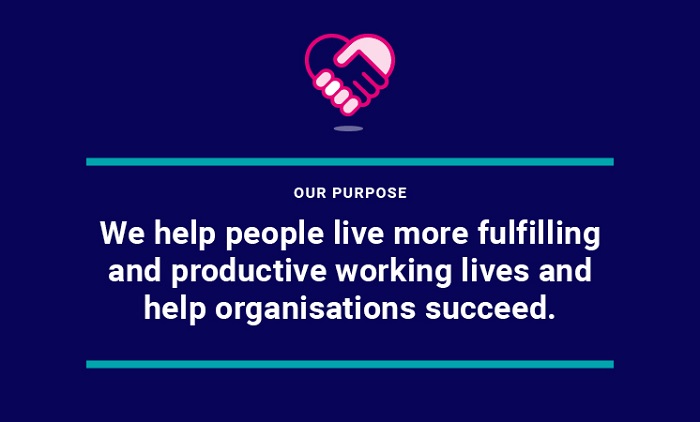 Why SEEK?
We have a compelling purpose - Our no.1 organisational belief is to have a positive impact on society. We do this by building market leading products that help solve challenges for individuals and organisations in the online Employment and Education marketplaces we operate in. We believe these are compelling problems to solve for students, jobseekers and employers worldwide.

We're big… and we're Australian – Over 22 years, SEEK is Australia's largest and most trusted employment marketplace delivering a world class search and match experience across all devices. 

We're the market leader –

In the next 12 months, SEEK will be the first choice for nearly half of the Australian workforce intending on looking for a job.

More than two in three people in the workforce state that SEEK is the most popular employment site (9x lead on nearest competitor)

We are a growth business - We are interested in investing and building technology led solutions that are focused on delivering real value and innovation. These themes are bucketed as Online Education (EdTech), HR SaaS and Contingent labour.

We're a tech company… on a global scale – SEEK is a digital native of the Australian online landscape and uses its unparalleled data assets and AI smarts to create premium solutions for our candidates and hirers. AI driven technology improves the search experience for all.

We are leading employer in AU, widely recognised as a leading place to work in Australia and one of the country's largest employers of technology and data science talent (STEM)

We pride ourselves on being a little different. We apply a set of beliefs to everything we do. These are specific to the way we do things here at SEEK. Our Seekers are passionate about our customers, show great judgement and know their stuff!

11 times we have been named as one of AON's Best Employers, more than any other employer in Australia!

World Class HQ – We are moving in early 2021 to a purpose built, world class engineering facility in Melbourne's hip new tech hub in Richmond. It will be as amazing as our people!
Perks and Benefits
At SEEK we want your experience and career to be like no other! Here are just a few of the perks available to all our employees that we are proud of.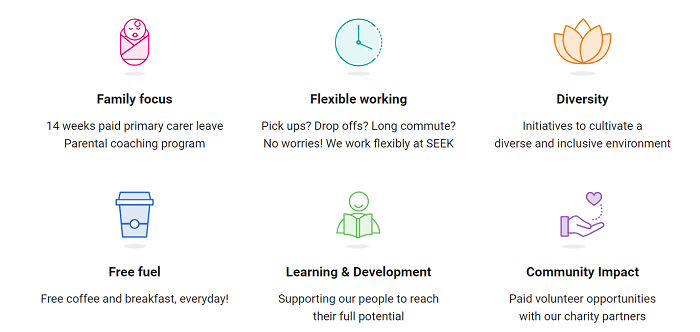 SEEK Software Development Graduate Program 2022
SEEK
---
What you can expect from our 2022 Software Development Graduate Program
Orientation begins with our SEEK bootcamp with a small group of peers, refining and growing your technical skills
You will work with great people, learn from talented individuals, and be mentored by a Technical Leader who cares about your career as much as you do
Your program mentors will guide and support you through your six-month rotations that expose you to different technologies and practices, including iOS and Android Development, AWS, TypeScript, GraphQL, React, Serverless Architecture and Continuous Delivery
You will receive ongoing training and access to SEEK's Learning Hub as we want to give you every opportunity to develop your skills and capabilities
At SEEK our people are everything. You will work with passionate engineers who highly value your opinion and will encourage you to step outside your comfort zone.
When you join us in 2022, you will meet your buddy who will help you find your way and as a permanent employee, you will have access to SEEK's perks and benefits
What do our Developers do?
Our developers build products for our jobseekers and advertisers. You'll have the opportunity to work across SEEK product delivery teams, creating new features, refining functionality, fixing bugs, and experimenting with user experiences.
As a grad, you'll get to rotate through different teams before YOU choose a career path to pursue your passion. You'll write code, but importantly learn about what each cross functional team is doing and get involved in helping shape the projects they're working on from design to deployment, learning new technology stacks and practices along the way.
Location
SEEK has offices across Australia and New Zealand and is headquartered in Melbourne.  Our graduate positions are offered in Melbourne.  
Our Application Process
Our process includes:
Stage 1 – CV Submission & Application Questions
Stage 2 – Online Coding Challenge, e-Assessment & Video Submission
Stage 3 – Assessment Day (includes technical assessment and values-based interviews)
Once you've submitted your application, we'll be attentively reviewing what you have sent us and updating you on next steps along the way.
IMPORTANT: Considering COVID-19 circumstances, we'd like to assure you that the safety and wellbeing of our SEEK employees and candidates are important to us. At this stage, subject to change, all external candidates will be assessed remotely or interviewed via ZOOM. This is to ensure we protect the health and safety of our people and our candidates. We would like to assure candidates that there is no expectation from SEEK Ltd to meet face-to-face to be eligible for our program, however we may offer you the opportunity if circumstances permit.
Eligibility
To be eligible for our program you:
Are in your final year of study or have recently completed an undergraduate or postgraduate degree in any field, but ideally in Computer Science or Software Engineering OR 
Have graduated within two years of applying with no more than 2 years discipline-related experience OR
Have completed industry training and / or certifications with no more than 2 years discipline-related experience
To have eligible working rights for to be considered for our program you hold:
Australian citizenship, An Australian Permanent Visa, or a Special Category Visa (if a New Zealand citizen living in Australia).
If you hold a temporary work visa (e.g., Temporary Graduate, secondary 457/TSS, provisional Partner visa), you will need:


To hold a valid visa for 18 months for the length of the programme. 
To be further considered for a company sponsored visa, a further minimum 6-month relevant full-time equivalent work experience would be required prior to application.
What Next?
So, you're ready to apply but don't really know where to start? Worried you don't have an extensive amount of experience? Don't worry, SEEK has you covered.
Let us help you with your resume and explore any other career advice you might need. Please visit: https://www.seek.com.au/career-advice/
We're really proud of our culture, which is brought to life in many ways. From our Friday afternoon drinks and awesome events, to our work in the community and focus on diversity and inclusion. Without question, our culture has been an integral part of our success and will continue to be as SEEK evolves.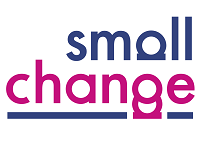 Here's just a few of the things SEEKers can get involved in:
Hackathons: Twice a year over three days SEEKers are given full autonomy to work together and then present their 'hacks' at a marketplace, where they can win prizes and get their products endorsed as a business priority and put on the product roadmap. Many of SEEK's products available to customers have come out of Hackathon ideas. We love our Hackathons, where we collaborate on passion projects and push the boundaries of technology. It's a thrill seeing your hack ideas get shipped to production. Nothing is off limits!
Supporting the community: SEEK contributes to the wider community in many ways, including through SEEK Volunteer (the leading volunteer marketplace in Australia and New Zealand), providing opportunities for employees to volunteer in the community with one day of paid leave each year to work at a charity of their choice, and dollar matching every donation employees make through our 'Small Change' workplace giving program.
SEEK are part of the ASX Top ten charitable companies with 60% of our people participating in our workplace giving program, Small Change. We are proud to have been named winners of the inaugural Workplace Giving Excellence Awards in 2018 from the Australian Charities Fund.
Events: Our awesome events happen throughout the year, including trivia evenings, SEEK Slam (our annual tennis comp), SEEK Footy, Carnival Day and much more.
Celebrating success: at SEEK we're big on celebrating success. When we achieve goals, or hit milestone points we come together and acknowledge the teams who have contributed to delivering to the goal and educate SEEKers on how this gets us closer to achieving our Purpose and then we celebrate!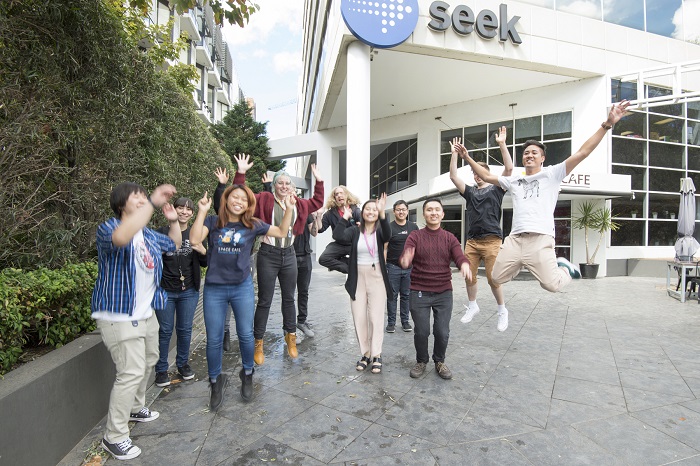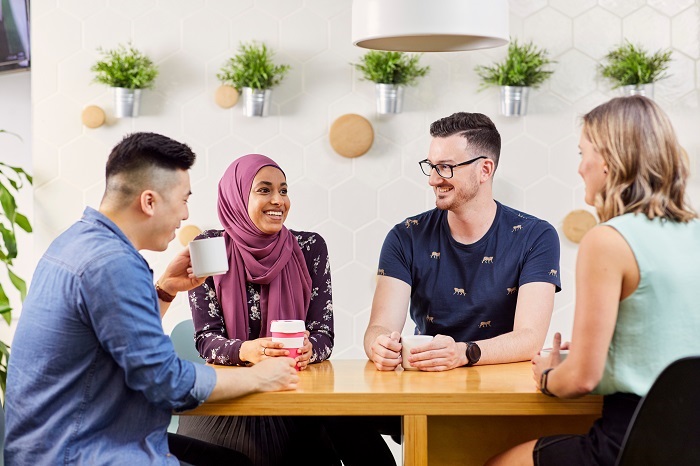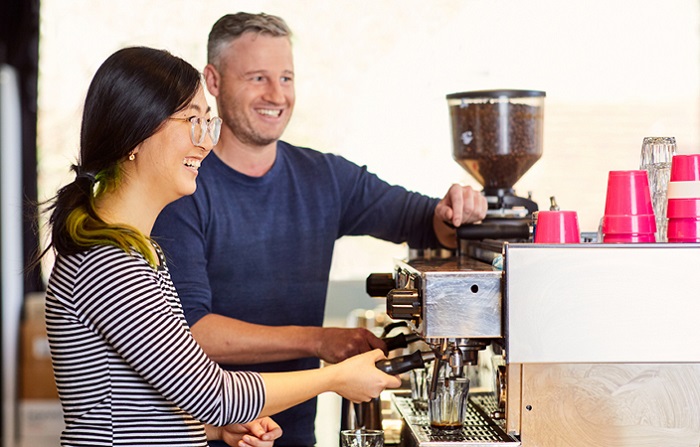 Our videos really tell the story:

Check out more videos and pics here:
Women at SEEK

SEEK
---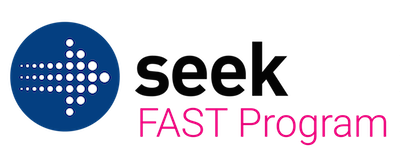 At SEEK we are proud of our gender balance and support of females across the business however gender diversity is a challenge faced by the technology industry and a focus within our technology teams. We are on a journey to continue to challenge ourselves and think about new ways we can support SEEKers and the technology industry.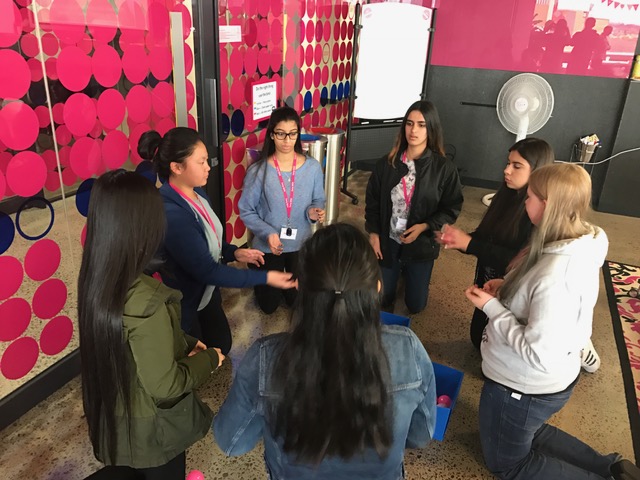 Community
At SEEK we believe in building supportive networks through communities both internal and external that encourage growth and support of women in technology. Working with and hosting meet-ups and learning days with groups such as Geek Girl Dinners, Tech Leading Ladies, Dev-Ops Girls and HaXX are an important way that Seekers and the external technology community come together to learn, share challenges and lessons and have fun.
SEEK also runs internal events with our DevSisters group as well as building out a female development program for leaders across the business called FAST – Females at SEEK Thrive.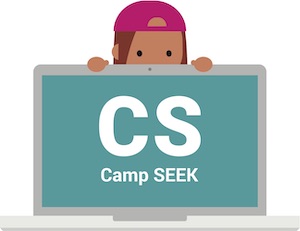 Growing the Pool of Women in Tech
The number of women entering the industry is low and declining, resulting in a shortage of women in the technology talent pipeline industry wide. As a leading technology organisation, we have a role to play to encourage and support more women to make the choice to study and work in the technology industry. A key belief at SEEK is to have a positive impact on society and we do this through a number of programs and initiatives to impact the industry as a whole.
As part of its strategy to 'grow the pool' of female talent entering the technology industry, SEEK has implemented Camp SEEK and an associated Alumni Program. Camp SEEK is a week-long program for girls in Years 9 and 10 during which participants are exposed to the broad careers available in technology.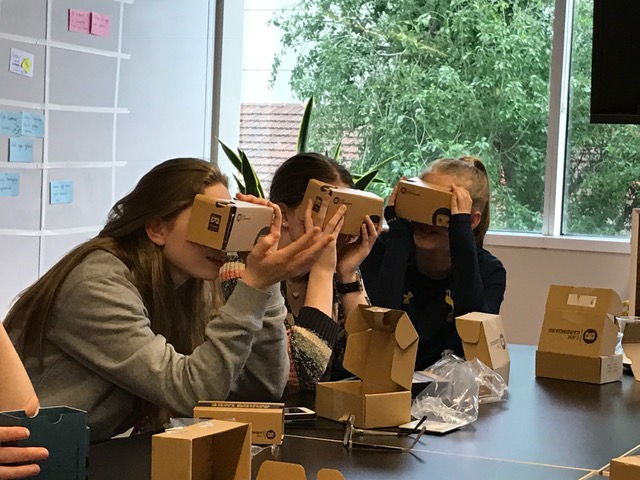 The program aims to engage and inform girls about technology careers; encourage them to continue to pursue their STEM studies; challenge stereotypes by introducing them to female role models; and provide a fresh perspective about what it is like to work in the technology industry.
Camp SEEK was designed and implemented in 2014 and now has over 100 graduates. An Alumni Program brings these past students together through events run throughout the year and provides support to girls considering a career in technology.
To find out more about Camp SEEK check out www.seek.com.au/camp-seek
---
Videos
LGBTI at SEEK

SEEK
---
Community engagement
Our continued sponsorship of Midsumma demonstrates our long-standing commitment to pride and diversity. We celebrate the diversity of our people here at SEEK and recognise the importance of creating a diverse and inclusive workforce.
Diversity and Inclusion at SEEK

SEEK
---
We recognise and respect qualities which are unique to individuals such as gender, language, ethnicity, age, religion, disability and sexual orientation. We are recognised as having an approach to diversity and inclusion which is genuine and embedded within our culture.
At SEEK, we live and breathe our commitment to an inclusive culture which values diversity of thought, opinion and background.
SEEK Strategy & Operations Graduate Program 2022
SEEK
---
What is the SEEK Strategy & Operations Graduate Program?
The SEEK Strategy & Operations Graduate Program is one-of-a-kind. It combines the best elements of strategy consulting and working in a high-growth tech company to give you an accelerated start to your career. You'll work with a great group of people with top-tier consulting backgrounds, build analytical and problem-solving skills, and gain hands-on operational experience. You will rapidly grow professionally, while immediately experiencing the impact your work makes on job seekers, workers, learners, organisations and SEEK.
People who started in the strategy team have gone on to use their skills to lead global product teams or Artificial Intelligence services, run SEEK internal start-ups, manage go-to-market functions or support transformation programs.
What you can expect from the program?
The SEEK Strategy & Operations Graduate Program will help you build solid foundational strategy skills while seeing your work having a real impact in the business. 
So, what can you expect?
The 2 year program consists of four 6-month rotations working in a strategic capacity across multiple teams such as the core strategy team, artificial intelligence (AI) teams, product development teams, commercial teams, our internal start-ups such as Jora and Certsy, and our international businesses.
You will work on real problems, building skills such as strategic problem solving, analysis, working with stakeholders across the business, communications, influencing and leadership.
As well as on-the-job training, you will also benefit from formal training and coaching throughout - from bootcamps to online courses and training days.
You will work in a positively dynamic environment, be a part of an amazing cohort of grads, learn from experienced individuals and be supported by a mentor who helps you navigate the program and who cares about your career as much as you do.
At the end of the 2 years, you will have built up a toolkit of skills that are applicable across a wide range of roles, built a strong understanding of digital marketplace business models, and hopefully found an area that excites you to continue your career and where you believe you can make the biggest impact.
Who should apply?
You are in the final year of your degree (or completed in the last two years) in any field and have less than two years relevant work experience
Working rights – You hold a temporary visa with unrestricted work rights at the commencement of the 2021 intake year for a term of 2 or more years (eg Temporary Graduate, secondary 457/TSS, provisional Partner visa), an Australian permanent visa, Australian citizenship or a Special Category Visa (if a New Zealand citizen living in Australia)
*Please note applications are open to candidates who are currently on a restricted Student Visa if they will have the correct unrestricted visa that is valid at the commencement of the program
You'll be ready to move to Melbourne (if you're not already here)
You'll demonstrate a commitment and curiosity to your craft outside of your studies
You're smart, diligent, an independent thinker, curious and above all have a desire to make an impact
You're looking to join an incredible team of strategists and business leaders to solve tough problems and influence the strategic agenda of a high growth tech company
Next Steps
Applications open on the 15th February 2021 and close on 21st March 2021 at midnight with our Graduate Program commencing in February 2022.
Our hiring process includes formal application, online assessments as well as case study and behavioural interviews. All applications will be reviewed after the closing date.