SEEK in a snapshot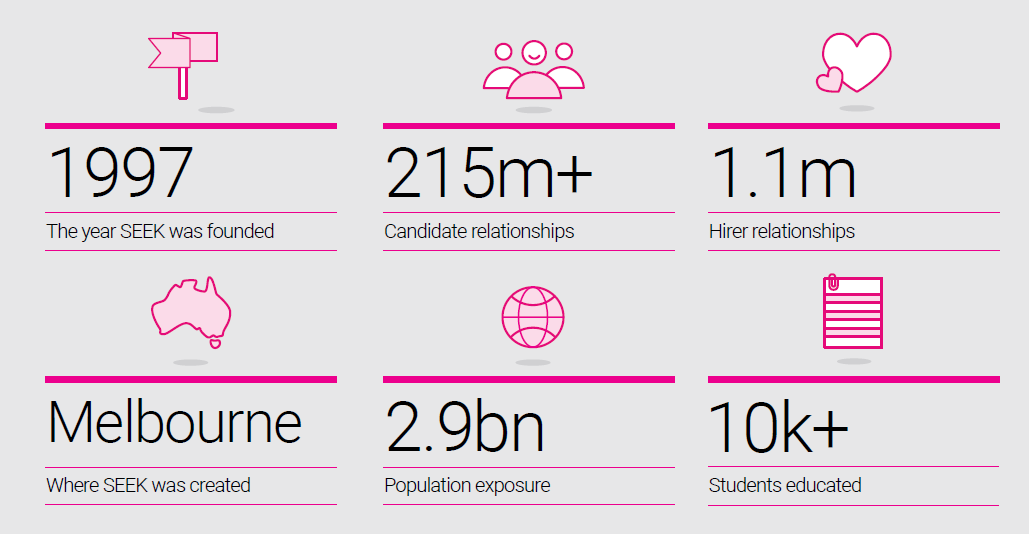 The SEEK Group
SEEK's portfolio of diverse businesses make a positive impact on a truly global scale. Our unified purpose helps people live more fulfilling and productive working lives and helps organisations succeed. We create world-class technology solutions to connect more people to relevant employment, education, small business and volunteer opportunities. We have a culture of high-performance in our workplaces and celebrate the diversity of our employees who contribute to the success of our organisation.
Find out more about us by visiting https://www.seek.com.au/about/.
'This is SEEK'
At SEEK our biggest asset is our people, and we are proud of our community of valued, talented and diverse individuals who really know their stuff. Our culture statement, This is SEEK, is all about what makes SEEK unique and a little bit different. This is SEEK clearly outlines what we believe in and the attributes of our best people, which include:
Passion about SEEK and our customers
Great judgement and decision-making ability
Knowing their stuff – Professional and Leadership skills
Delivering great outcomes for SEEK.
Find out more about This is SEEK and our how our culture comes to life by visiting
https://www.seek.com.au/work-for-seek/life-at-seek/.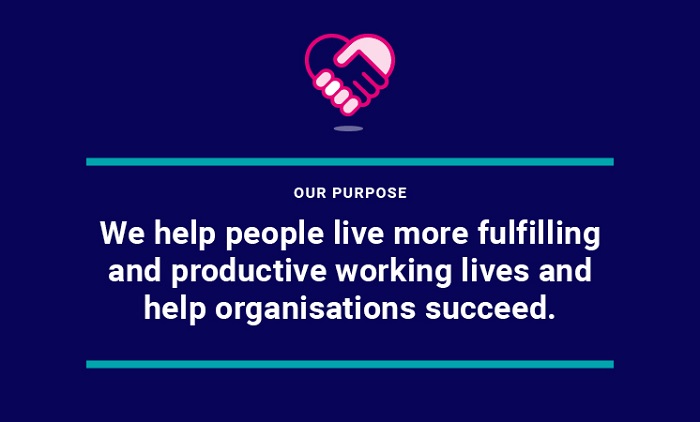 Why SEEK?
We have a compelling purpose - Our no.1 organisational belief is to have a positive impact on society. We do this by building market leading products that help solve challenges for individuals and organisations in the online Employment and Education marketplaces we operate in. We believe these are compelling problems to solve for students, jobseekers and employers worldwide.

We're big… and we're Australian – Over 22 years, SEEK is Australia's largest and most trusted employment marketplace delivering a world class search and match experience across all devices. 

We're the market leader –

In the next 12 months, SEEK will be the first choice for nearly half of the Australian workforce intending on looking for a job.

More than two in three people in the workforce state that SEEK is the most popular employment site (9x lead on nearest competitor)

We are a growth business - We are interested in investing and building technology led solutions that are focused on delivering real value and innovation. These themes are bucketed as Online Education (EdTech), HR SaaS and Contingent labour.

We're a tech company… on a global scale – SEEK is a digital native of the Australian online landscape and uses its unparalleled data assets and AI smarts to create premium solutions for our candidates and hirers. AI driven technology improves the search experience for all.

We are leading employer in AU, widely recognised as a leading place to work in Australia and one of the country's largest employers of technology and data science talent (STEM)

We pride ourselves on being a little different. We apply a set of beliefs to everything we do. These are specific to the way we do things here at SEEK. Our Seekers are passionate about our customers, show great judgement and know their stuff!

11 times we have been named as one of AON's Best Employers, more than any other employer in Australia!

World Class HQ – We are moving in early 2021 to a purpose built, world class engineering facility in Melbourne's hip new tech hub in Richmond. It will be as amazing as our people!
Perks and Benefits
At SEEK we want your experience and career to be like no other! Here are just a few of the perks available to all our employees that we are proud of.