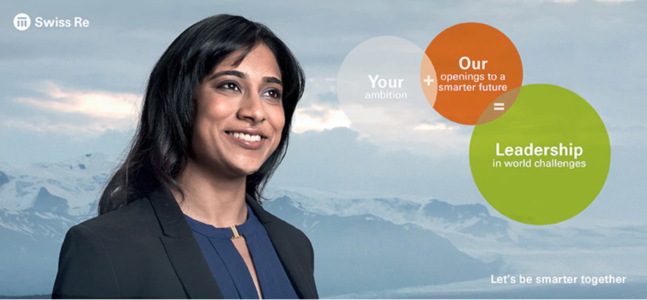 Swiss Re Graduate Jobs & Internships
The Swiss Re Group is a leading wholesale provider of reinsurance, insurance and other insurance-based forms of risk transfer.  Dealing direct and working through brokers, our global client base consists of insurance companies, mid-to-large-sized corporations and public sector clients. From standard products to tailor-made coverage across all lines of business, we deploy our capital strength, expertise and innovation power to enable the risk-taking upon which enterprise and progress in society depend.
Swiss Re currently has 0 opportunities.
Select the following options:
Past Swiss Re Graduate Hiring Statistics
If you're interested in working at Swiss Re, understanding when they have opened up applications for their graduate programs, graduate jobs and internships is helpful knowledge to have so you know when you might need to apply. Use the below information to see when Swiss Re hires graduates, but more importantly what graduate degree's and other student attributes they target for their jobs.
---
Job types
Graduate Jobs (75%),

Internships (25%),
Disciplines
Actuary (25%),

Banking and Finance (25%),

Human Resources (25%),

Management (25%),

Psychology and Counselling (25%),
Past Swiss Re Graduate Jobs & Internships
Check out some of Swiss Re's past jobs they have posted on GradConnection over the last 12 months. Understanding the details about what a graduate employer is looking for well before applications have opened can sometimes be the edge you need to secure your first graduate program.
---
You will be part of the Underwriting team responsible for data capturing, Life Guide reports, SharePoint updates as well as coordinating team events and seminars.
LOCATION
Cape Town (South Africa)
You will work closely with the HR MEA local team and the Global HR Solutions centre based in Bratislava. The HR Intern supports the whole team in ensuring all HR processes and projects are coordinated accordingly.
LOCATION
Cape Town (South Africa)
The programme offers you the chance to join the dynamic, fast-moving world of a leading risk knowledge organization. Over an 18-month period, you'll receive on-and-off-the-job training, including a job rotation that gives you the opportunity to work across different business units.
LOCATION
Cape Town (South Africa)
We are looking for graduates with strong interpersonal skills, who are eager to learn and broaden their knowledge and expertise. You have a Bachelor, Master or PhD degree with up to 3 years professional experience - We invite you to apply to our [email protected] programme 2021.
LOCATION
Cape Town (South Africa)